Even the best sleepers can have trouble falling asleep at times. The downsides of not continually getting enough quality sleep are many, and include increased risks for heart disease, depression, and diabetes, just to name a few. While the long sunny days of summer are most welcome, they can also throw a wrench in your family's sleep routine.
Whether you want to avoid getting completely off track or are looking to ditch your poor sleep habits once and for all, here are some healthy sleep tips for a better night's sleep.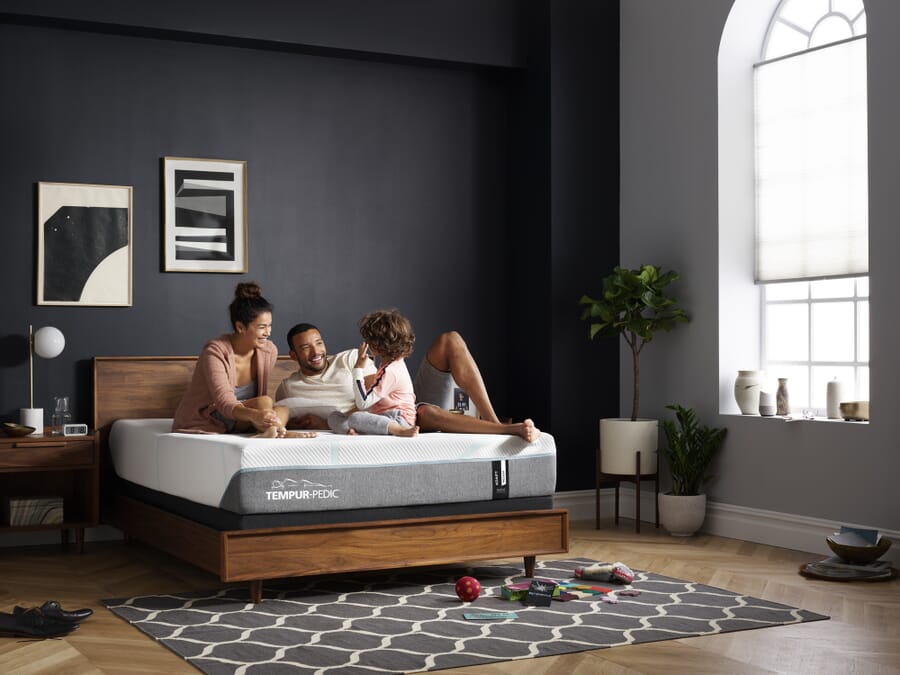 The all-new Tempur-Pedic TEMPUR-Adapt Medium mattress has advanced comfort layers to help you get your best night's sleep
Tips for a Better Night's Sleep
Wind Down Before Bedtime – Experts suggest turning off technology at least 30-60 minutes before bedtime. That means avoiding phones, tablets, computers, and TVs. Instead, find another, more relaxing activity like reading a book, stretching, or writing in a journal while listening to some relaxing music.

It's All About the Light – Getting quality sleep is all about managing your circadian rhythms. Although it's more difficult in the summer, try to avoid bright light late in the evening, and adjust your sleep setting or morning routine to expose yourself to sunlight as soon as possible.

Stick to a Routine – This is especially helpful if you have little ones who don't like going to bed. Sticking to a routine – such as bathtime, brushing teeth, storytime, and bedtime – can get your child in a bedtime-ready mindset and can even make them sleepy in the process. For adults, tuning out from technology an hour prior, reading a book, and doing some light stretching every night before bed can have the same effect.

Check Your Mattress – Your poor sleep may have something to do with your mattress. Take a moment to think about it – you sleep on your mattress on average 7-9 hours per night, every night. After several years of this, your mattress naturally starts to break down due to natural wear and tear. And since it's hidden beneath several layers of bedding, you're probably not even thinking about it. If you're constantly waking up with aches, pains, or a general feeling of not being refreshed, consider testing out a new mattress. Our WG&R Sleep Shops have knowledgeable sleep specialists who can help you find the right mattress. Whether it's Sealy, Tempur-Pedic, Nectar, or our very own line of WG&R Factory Direct mattresses, you can be sure we have the right mattress to fit your sleep needs. (Read our ultimate mattress buying guide here.)

Check The Temperature – Sleeping too hot is one guaranteed way to ruin the quality of your sleep. If you tend to overheat during the night, invest in a mattress with cooling features and use bedding with breathable, moisture-wicking materials. Another tip? Turn down the thermostat. Even if you like a warmer temperature during the day, it's a good idea to turn down the temperature by bedtime to allow your body to sleep comfortably.

Consider an Adjustable Base – For the same reasons you may need a new mattress, you may also benefit from a lifestyle base. These technologically advanced power bases allow for customized comfort with adjustable positions that can help you sleep or relax even easier.
Read how to create a relaxing master suite here.