Have you ever felt confused or overwhelmed when shopping for a new mattress? You're not alone. With so many mattress brands, types, and feels to choose from, it can be difficult to know where to even begin. And then there are all of those mattress layers and technologies that are supposed to give you the best night's sleep ever.
But what does it all mean?
That's why we're dedicating this post to helping you navigate the confusing world of mattress shopping. It's a lot less overwhelming when you can narrow down your options and know where to start before you even step foot in the store. Because while there are several internal and external factors that can impact your quality of sleep—such as environment, stress level, and room temperature—having the right mattress is at the core of a good night's sleep. So read on for our mattress shopping guide!
Mattress Types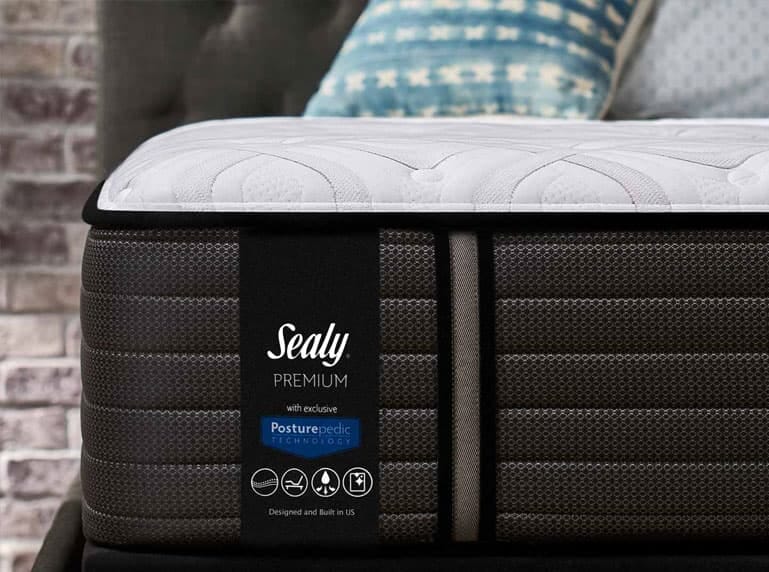 Before we get into the details, it's a good idea to familiarize yourself with the different mattress types. There are five basic mattress types:
Memory Foam – This type of mattress doesn't have any springs, so it's a good category to shop if you've had poor experiences with innerspring mattresses in the past.  Memory foam mattresses have a unique feel and will more easily mold to the shape of your body.  Other benefits include temperature control, proper spinal alignment, even distribution of pressure along the length of your body, and the use of hypoallergenic materials.
Traditional Innerspring – Providing stable support, the traditional innerspring mattress uses springs made from one long piece of steel wire and is topped with an upholstered comfort layer. This type of mattress is generally the most affordable option and is easy to find.  Traditional innerspring mattresses are also typically good for those wanting a cooler sleep experience since there is room for air circulation between the coils.
Pocketed Coil Innerspring – If you're looking for more support than the average sleeper, you may want to go with a pocketed coil innerspring mattress.  Because the springs are individually encased inside fabric pockets, there is significant motion transfer reduction between both sleepers.  Each spring works independently, resulting in increased or decreased pressure completely dependent upon your body's distribution along the mattress.
Hybrid – For the best of both worlds, a hybrid mattress typically combines pocketed coil innerspring construction with a memory- or latex foam top. However, unlike standard innerspring mattresses, you'll tend to find more foam and fewer comfort materials. The mattress surface is also typically flatter—much like a foam mattress—rather than plush or tufted like a traditional innerspring mattress. Hybrids are better at conforming to your body than standard innerspring mattresses and have a fairly unique feel that some people prefer.
Technologies & Materials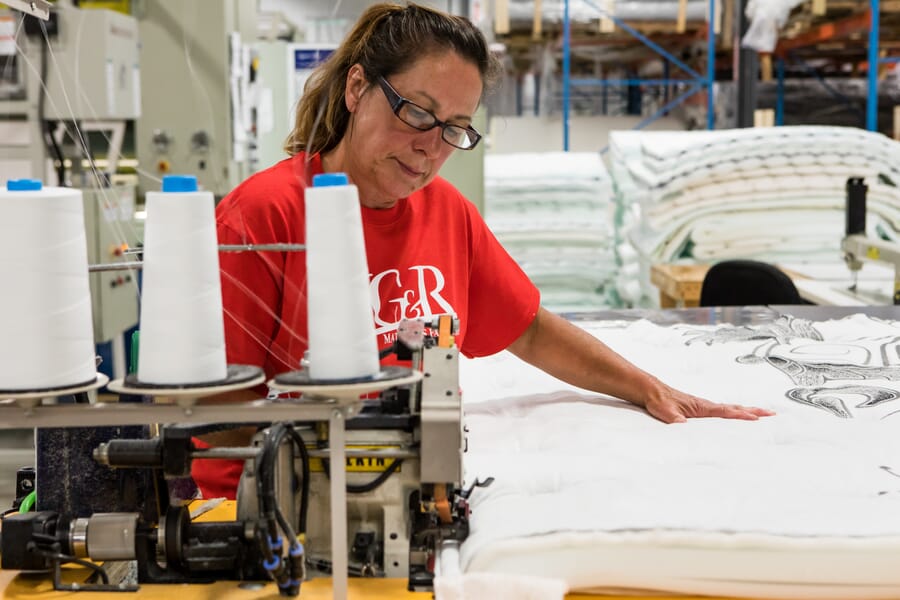 While some national name brands will create their own exclusive technologies, you'll find that many of the same materials are used to build mattresses. The only real difference is the quality of those materials and the amount of each that is used throughout.
Here is a list of some of the most common mattress materials along with their primary benefits.
Wool Fill – a natural insulator to keep you at a comfortable temperature regardless of the season.
Foam – provides quiet, firm support and reduces motion.
Gel Foam – the comfort of foam enhanced with the stabilizing and initial cooling properties of gel.
Memory Foam – a revolutionary high-density foam that adapts to weight and body temperature for maximum comfort and motion reduction.
Wire-Tied Coils – a traditional innerspring system featuring firm wire-tied construction to provide a stable and durable support system.
Pocketed Coils – a premium coil system featuring individually wrapped response support coils that reduce motion transfer.
Nano Coils – a system that provides the comfort of foam with the durability of steel. It features an additional upper layer of individually wrapped coils to provide lasting comfort.
Thermo-Neutral (Temperature Regulating) – specialized, breathable materials that help regulate surface temperatures to prevent you from sleeping too hot or too cold.
Know Your Sleep Position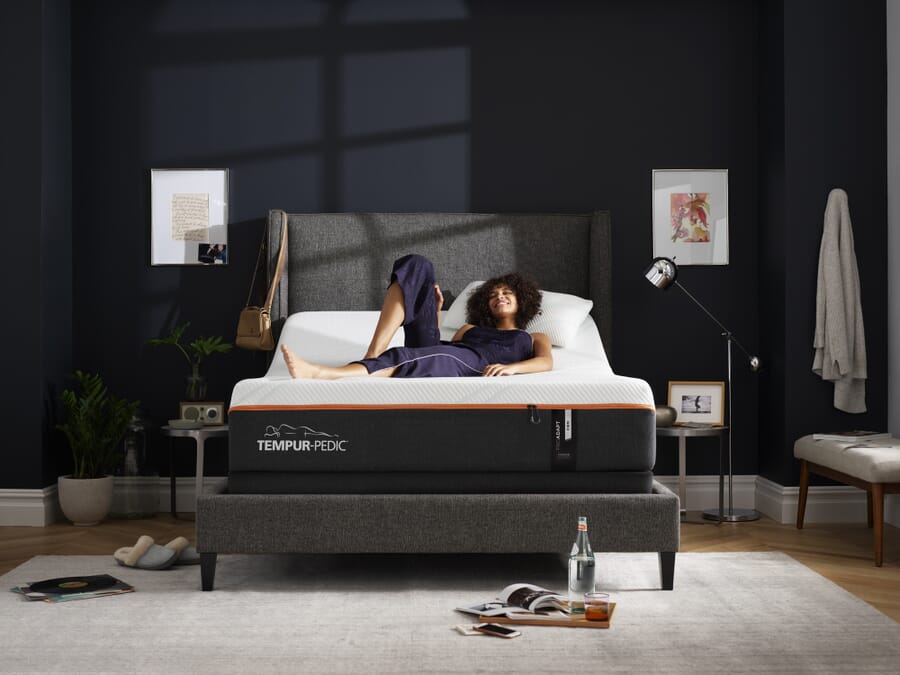 The goal of buying any mattress is to optimize your comfort and reduce any pressure. You should always go into mattress shopping with the understanding that mattresses are truly a personalized purchase: what works perfectly for your family member or best friend won't necessarily work perfectly for you.
With three different mattress "feels"—soft, medium, and firm—your preferred sleeping position(s) can make a huge difference when it comes to selecting the right mattress for you. Here are some general guidelines in how your sleeping position can narrow down your mattress options.
Back Sleepers – Not only is this the most common sleep position, it's also the only one that's widely doctor recommended. Ideally, this sleeping position should keep your spine in proper alignment and should have minimal pressure on your neck or spine.
Look for: proper support in a well-cushioned mattress that isn't too soft.
Recommended mattress type: All mattress types
Side Sleepers – The primary concern for side sleepers is spinal alignment. Without proper support, you can drastically increase your likelihood of developing back-related pain. You should consider a mattress that works to support the concave area from your ribs to hip while relieving pressure from your hips and knees.
Look for: a mattress that is neither too soft nor too firm.
Recommended mattress type: Memory foam with a medium to medium-firm "feel" or hybrid
Stomach Sleepers – Prefer to sleep on your stomach? While it may be the most comfortable position for you, it has the potential to strain your neck and push your spine upward, resulting in improper spinal alignment that can quickly result in back or neck pain. Consider a mattress that has contouring properties that can provide both proper support and pressure relief.
Look for: a plush mattress
Recommended mattress type: Memory foam or hybrid
General Buying Guide
Realize when it's time to buy a new mattress.  In general, a mattress should be replaced every 7-10 years.  If you are suddenly experiencing back pain, soreness, restless sleep, or discomfort, or if you notice your mattress sagging, it may be time for a new mattress.  Don't cheat yourself out of a good night's sleep.
Test a variety of beds to see which ones are most comfortable to you.  It's completely fine to try out types or brands that have been recommended to you by those you trust, but don't buy on this basis alone.  What works for one person may not work for another.  When mattress shopping, relax and get comfortable as much as possible, then lie down in your usual sleeping position for 15 minutes. We even provide test pillows with freshly washed pillowcases for you to replicate your sleeping environment as much as possible!
Be aware of firmness levels.  The ranges will vary from brand to brand, so don't expect a "medium" firmness to be consistent across the board.  As a rule of thumb, being able to easily slip your hand under the small of your back means a mattress is too soft, while having difficulty means a mattress is too firm.  The heavier you are, the firmer the mattress should be.
Don't forget about the pillow!  Just as important as the mattress you sleep on, a pillow can also add or detract from your quality of sleep.  Take into consideration your sleep position preference – are you a back, side, or stomach sleeper? There are a wide variety of pillow options to suit every kind of sleeper.
Visit any of our WG&R Sleep Shops and let one of our trained sleep specialists help you find your perfect mattress.

Read how to care for your new mattress here. | Read the answers to mattress shopping's toughest questions in this interview.