Your bedroom. It's where you go to relax, retreat, and unwind from your day, so shouldn't it be as calming, peaceful, and restorative as possible? The ambience you create in your bedroom will greet you first thing in the morning and encourage restful slumber at the end of the night.
So how do you create the perfect bedroom setting to do all of that and more? Read on for our top tips on creating a relaxing master suite.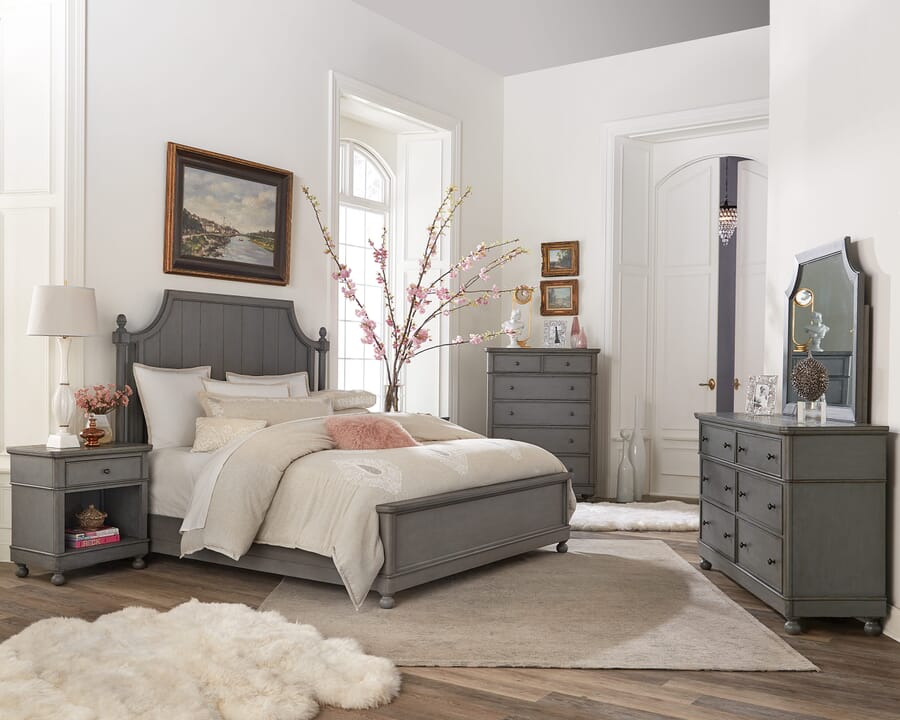 How to Create a Relaxing Master Suite
Find the Perfect Bed
What better way to start and end your day than in a bedroom with furniture you love? There are so many styles, materials, and options when it comes to beds. From panel, sleigh, poster, canopy, platform, and upholstered, the style of your bed will set the tone for the entire room.
So how do you choose the right one? Here's a breakdown of each bed style.
Panel: This is the most common and transitional style, which makes it perfect in nearly every bedroom. With a variety of wood finishes available, it's easy to define your bedroom style with a casual, traditional, farmhouse, or modern flair.

Slat: Often associated with Mission style beds created in the 18th century, this is a great way to make your bed appear less "heavy" in the room, as the slat style breaks up the furniture and gives it an airy, open feel. This style was created to embrace the artistic value of hand-crafted furniture and lends a beautiful look to any bedroom.

Sleigh: Sleigh beds are typically more traditional in nature. Featuring a curved headboard and footboard, sleigh beds originated in the early 19th century. The overall size of a sleigh bed is larger than a panel bed and is unable to rest flush against the wall. However, it also allows for more storage underneath since it typically stands higher off the ground.

Upholstered: Having an upholstered headboard and footboard can add a touch of luxury and sophistication to your bedroom. If you view your bedroom as the ultimate retreat, an upholstered style bed may be your solution. Additionally, if you enjoy sitting up to read or watch TV, an upholstered headboard can elevate your comfort level and provide soft support to lean on.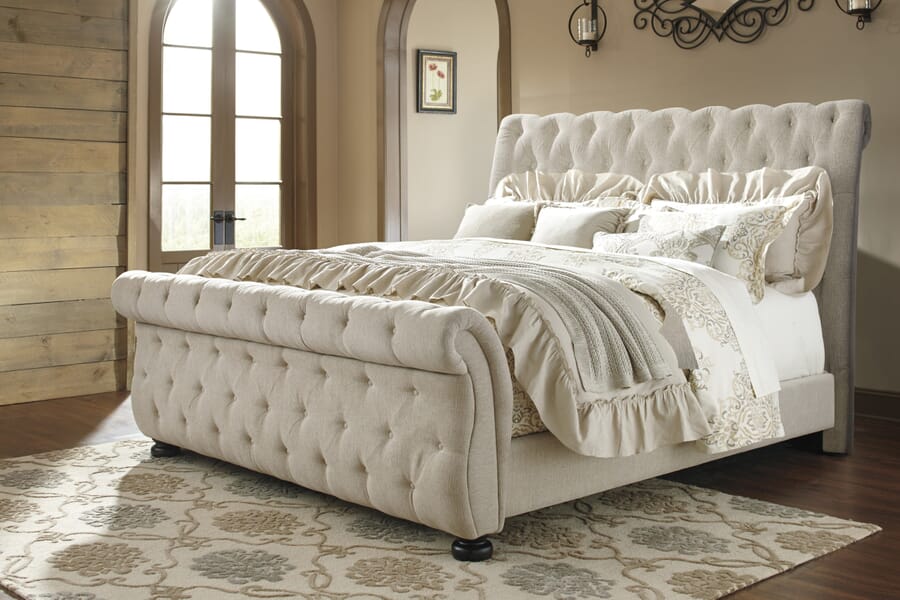 Platform: Many modern and contemporary bedrooms utilize platform beds. These sit low to the ground and do not require a foundation (a.k.a. box spring) to support the mattress. This style pairs especially well with minimalist decor and adds plenty of style despite its shorter profile. It can also be a great option for younger children or adults with chronic knee pain who would benefit from a lower profile bed to get in and out of.

Storage: Who doesn't love extra storage? With storage beds, you'll find built-in drawers and open cubbies in the side rails and/or footboard thanks to their efficient use of space. These are a great option for those who could benefit from extra storage without taking up any additional space, whether you're short on square footage or closet space.

Headboard Only: Rather than the polished look of a complete bed with matching headboard, footboard, and rails, a headboard only can be both budget-friendly and stylish. Many styles either attach directly to the bed frame or are hung on the wall. There are a range of materials to choose from, including fabric, wood, and metal. And did we mention a headboard only makes changing the sheets a breeze?
Invest In A Supportive Mattress
Nothing provides a quality night's sleep better than a comfortable, supportive mattress. While one size does not fit all, it's important to sleep on a mattress that meets your sleep needs—whether that means firm, soft, pillow-top, memory foam, or anything in-between. Need help in finding the right mattress for you? Check out our Ultimate Mattress Shopping Guide. And if you want tips for a better night's sleep, read this.
Stay Organized
The polar opposite of staying organized is the presence of visual clutter. Make a point to make your bed every morning and put everything in its place at the end of the day. This will create a clean, calming environment that will promote restful relaxation.
Keep It Cool
Sleeping too hot is one guaranteed way to ruin the quality of your sleep. If you tend to overheat during the night, invest in a mattress with cooling features and use bedding with breathable, moisture-wicking materials. Another tip? Turn down the thermostat. Even if you like a warmer temperature during the day, it's a good idea to turn down the temperature by bedtime to allow your body to sleep comfortably.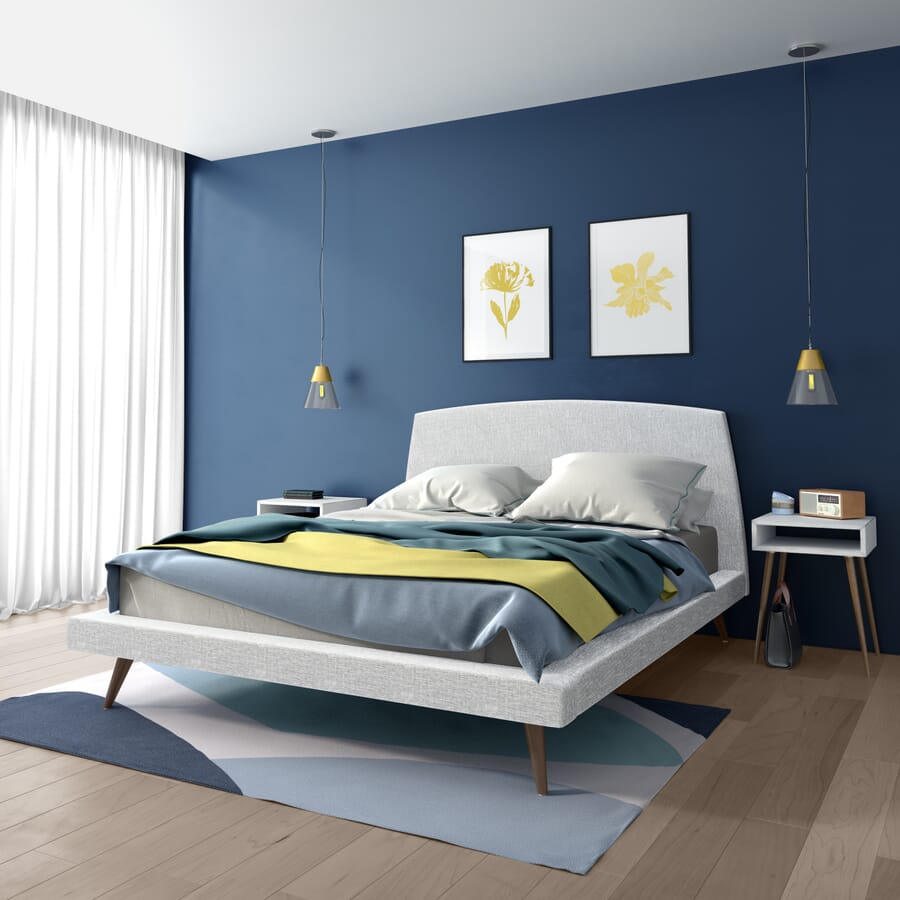 Keep It Calm
A sense of calmness will look different to everyone—literally. But the main takeaway is to stick with a unifying theme once you've created it. If neutrals are your sense of calm, stick with neutrals throughout the room and mix in different prints, textures, and shades of the primary neutral to keep a unified theme. Bold colors can also be calming to some, and in that case we recommend choosing one statement in the room—whether it's a statement wall, colored fabric headboard, or bold area rug—and building from there with more toned down shades throughout the room.
Find The Right Light
Window coverings and lighting fixtures will really help create the ambience you're seeking in your master suite. Consider the ways you use your bedroom and at which times during the day those activities occur. If you're an early riser and enjoy waking up to the sunrise, you'll want to look for ways to let natural light in without having to get out of bed. If you spend most of your time in your bedroom at night reading or writing, soothing light from tabletop fixtures or sconces can create a relaxing environment while still providing enough task lighting.
Keep Must-Haves Within Reach
A glass of water. A journal and pen. A good fiction novel. Whatever you regularly reach for while winding down is best kept within easy reach on a nearby nightstand. Any opportunity to prevent yourself from having to get out of bed once you've settled in for the night is worth keeping nearby.
Disconnect & Unplug
Try to avoid using electronic devices at least 30-60 minutes before bed. Studies show that the blue light emitted from mobile phones, tablets, and TVs prevent your brain from going into its natural "wind down" state, causing you to stay awake much longer than you should and experience restless sleep. Instead, find another, more relaxing activity like reading a book, doing light stretching, or listening to soothing music to prepare your body and mind for restorative sleep.