To give you the real answers to some of mattress shopping's toughest questions, we interviewed three of our trained sleep specialists across our network of WG&R Sleep Shop locations: Dan Murphy, WG&R Sleep Specialist for 15 years; Casey Fiebig, WG&R Sleep Specialist for 3 years; and Cody Hammer, WG&R Sleep Specialist for 1 year.
Mattress shopping can feel like the wild west if you aren't sure what you want or need to get the best night's sleep. Whether you're test-resting in a mattress store or browsing online options, it always helps to have an expert by your side to ensure you get the most out of your next mattress.
Keep reading for the complete interview with our three sleep specialists, or use these quick links to get answers to your most pressing questions. Here's to sleeping better!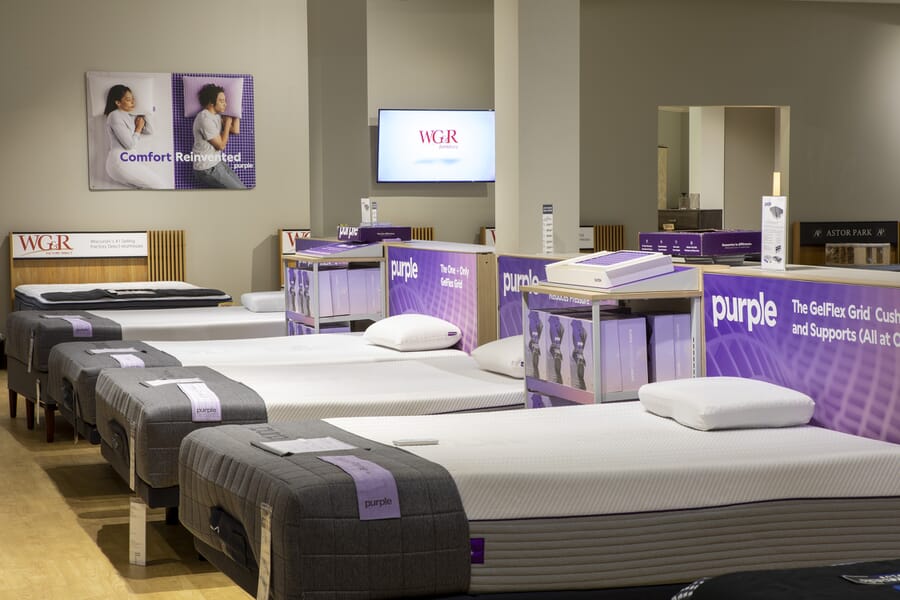 QUESTION: How do I know it's time for a new mattress?
Dan: For most, our mattress isn't something we give much daily focus to. But, at some point we begin to notice we're not as well rested after rising from it as we once were. We may notice more stiffness and brain fog, giving us a less energetic start to our day. Typically, this is due to elevated movement during the sleep period from the body's attempt to manage 'gradually increased discomfort from pressure' to our joints and back. This means the pressure relief materials and spinal support system of the mattress are failing, ultimately presenting as fitful 'tossing and turning.' This movement results in our obtaining a lower number of REM [rapid eye movement] cycles, which are critical to restore and maintain optimum function to each organ of our body.

Casey: One good way to tell that you need a new mattress is simply if yours is causing you any aches and pains. You should not be waking up from a period of rest in pain, whether it's your back, your hips, shoulders, etc.

Cody: Typically, if a mattress is 10 years or older, it's time for a new one. Also, if you wake up with a sore back or the feeling of pins and needles in your arms or legs, that is an indication that your current mattress is not giving you the right amount of support and pressure relief.
QUESTION: What is the biggest misconception people have when coming in to shop for a mattress?
Cody: Most people think that if you are having back pain or muscle tenderness, you need a very firm mattress for support. However, firm mattresses can create more pressure points and lead to more muscle pain than a mattress that has pressure relieving soft layers at the top.

Casey: One HUGE misconception is the idea that you need a firm mattress. I can't even count how many customers have walked in saying their chiropractor has told them they need a firm mattress. I always ask "did they ask you about your sleep position?" and 99% of the time they say no. If you're on too firm of a mattress as a side sleeper, which is arguably the best and one of the most common positions, a firm mattress will actually give you lower back pain. And I guess the chiropractor will still be getting good business then. 😉

Dan: In my experience it is the notion that "firmer is better." I get it, a person with a sore back wants relief and we've been conditioned to think this way. However, if a firm mattress is the ticket to slumber bliss, why don't we simply manufacture mattresses from concrete? ANSWER: Because the human body doesn't come in the shape of a two-by-four—we have contours and a shoulder complex, which if not properly fitted to the sleep surface, will inevitably result in increased pain or mobility issues. Some people have been instructed by their physician to get a firm mattress, when the doctor should be advising the patient to find a mattress that provides excellent spinal alignment with absence of pressure to the joints. These two elements are the recipe for optimal deep REM sleep which enhances our quality of life immeasurably.
QUESTION: Which questions should people consider ahead of time that will help guide their sales associate in the right direction toward finding the perfect mattress for them?
Casey: We really just need to know your gripes about sleeping. What's causing you to not get good enough sleep? Is it your temperature control? Your pressure points? Your back? All of the above? Just come in with your complaints and we'll help you fix them.

Dan: Well, for people who've had a negative experience, the thought of buying a new mattress can be stressful. So, they should ask themselves a few different questions:

'Can I be open minded and willing to share my fears and apprehension with a person who is dedicated to do their level best to make me comfortable?' The more you communicate, the better the outcome.

'Am I willing to spend an hour or more with a consultant to gain the knowledge of which materials best work for the personal requirements of my body?' Please don't come in thinking you're going to be 'in and out' in ten minutes. A mattress is a health enhancement product, and the more thought you put into your selection; the better outcome you'll receive.

'Am I ready to 'truly focus' on finding the most beneficial solution to my ongoing discomfort?' Be prepared to be present and learn; we truly want to help you.

'I'm so confused 'where do I begin?' The simple response is WG&R. We sell far more mattresses than our competition because of selection, price, and expertise to fit you to the right one.

Cody: The best questions to consider are:

"Do you notice yourself waking up in a different position than where you fell asleep?"

"Do you find yourself struggling to breath, snoring, or having acid reflux at night?"

"Do you notice yourself sticking one leg out of the covers or kicking the covers off at night?"

These answers will help guide a sales person at finding the best sleep system.
QUESTION: What is the benefit of working with a WG&R sleep specialist vs. buying online?
Dan: I've had the experience of sorting out the unfortunate mistakes, made by many people who've taken it upon themselves to purchase a "sleep solution" online. We should remember: 'marketing hype is designed to prod you to make a buying action.' Sure, sometimes it works out, however, I seem to see a lot of folks who've lost sleep from an online mattress purchase. Most of us prefer a tactile experience as part of a tangible information gathering process. When buying online, you can spend a considerable amount of money on a new mattress based upon what boils down to a guess.  In fact, you have no idea whether you'll receive adequate spinal alignment and pressure relief as you're making an emotional decision based upon marketing, rather than from the standpoint of an informed selection from testing mattresses in person. Also, just as important: where are the materials manufactured? WG&R only carries American manufactured mattresses, whose foam materials undergo strict safety analysis via CertiPUR-US®. With online companies, you often have no way of knowing if what you're laying your body on is safe for you.

WG&R provides knowledgeable consultants trained to find the best source of mattress comfort for you. We take the quality of your sleep seriously and take pride in what we do for our customers. For generations, WG&R has been serving the families of Northeast Wisconsin. The public doesn't allow you to stick around that long unless you've consistently proven yourself worthy of their trust.

Casey: We, as sleep specialists, have learned the science behind healthy sleep. If you let us know what's giving you trouble in your sleep, we'll be able to guide you to something you might never have thought you needed. Shopping online is super convenient and there are a lot of valuable resources out there, but to receive the care from someone who really knows their stuff…well, that's a whole different level of comfort: peace of mind.

Cody: Sleep specialists can walk you through different mattress options that are curated for your specific problems, rather than just reading about what is inside of each mattress online.
QUESTION: Mattress shopping can be intimidating for some people. How does the WG&R Sleep Shop experience make it easy?
Cody: When working with a sleep expert, you can be assured that they will walk you through the steps of finding a mattress based on your needs without the pressure of feeling like you need to make a hasty decision. WG&R also offers several 0% financing options that make investing in your sleep much less intimidating.

Dan: Yes, people periodically come to the Sleep Shop with a look on their face suggesting 'I would rather undergo a tooth extraction without nitrous than pick out a new mattress.' Oftentimes, this is based on a history of failed attempts to find comfort from a mattress they shouldn't have purchased or a mattress failure, causing anxiety about the next one. Recurrently, people give the mattress purchase 'short shrift' when deciding to finally replace it – because they hold onto misinformation. At WG&R Sleep Shop, we ask pertinent questions regarding your history to establish a baseline before proceeding. Then we listen to you, so that we can best guide you toward a mattress with the best history for erasing the issues from which you suffer. Be it back pain, hip pain, shoulder pain, knee pain, neck or jaw discomfort. Odds are we have a product to bring you significant relief. Based upon the information you provide, we may have you test a mattress with an adjustable base; which is proven to diminish pressure to joints. Remember: pressure on a body desiring rest is antithetical to receiving deep Arcadian sleep. In the final analysis, you are conscious of what you're feeling when testing the beds, so our process is less about us selling you a mattress and more about you trusting your body to make the buying decision. Meaning, take the new education you receive and apply it toward making a life enhancing selection. This is all about YOU.

Casey: I truly believe our sales team does an excellent job at not being overly salesman-like. What I mean is that we aren't here to pressure you into buying the biggest, most expensive piece of bedding in the store. We genuinely care about finding the best fit for YOU.
QUESTION: Which mattress brand/line are you most excited about right now?
Casey: PURPLE. I got my Purple Premier 4 about five months ago and I have never slept this well in my entire life.  I tell my customers about it all the time. Every single night, as I sleep, I have dreams that I can actually remember when I wake up in the morning. I wake up feeling incredibly well-rested, and sometimes I find myself waking up that way before my alarm even goes off. The pressure relief is unreal, and my lower back issues have just about disappeared! They've got the marketing and the style down to a science, too. It's really great to see the reaction of customers when they first lay on one.

Cody: WG&R recently released Astor Park mattresses, which are a phenomenal value for a luxury mattress with an upgraded level of support through comfort layers and nano-coils.

Dan: Tough question. WG&R Sleep Shops carry lines that our market research indicates is held in high esteem with the public throughout the United States. So, basically, the public tell us what we should be offering and, of course, we listen. The Simmons Beautyrest Black series is the royalty of the hybrid mattress, from the company who invented the 'hybrid category.' We have the best foam mattress in the industry with Tempur-Pedic. Tempur-Pedic is consistently at or near the top in customer satisfaction and has received accolades from J.D. Power for highest rating of ALL consumer products sold within the United States. I find that quite outstanding. We offer the Purple bed, a fabulous pressure relieving material unlike any other feel in our extensive repertoire, it's truly unique. Of course, we offer a strong selection in Sealy, perhaps the most trusted name in mattresses. And I can't forget Nectar, a foam, bed in a box offering that a segment of our customers enjoys. Last, but never least, is the excellent line of beds made at our own state-of-the-art facility in Two Rivers. WG&R has a rich, proud history of mattress design and manufacturing, with materials found at companies within the great state of Wisconsin. Yes, we have a stellar line-up in mattresses, but it's difficult to focus on one in particular.
QUESTION: Anything else you would like people to know?
Dan: I guess the main takeaway I would hope for is the quality of your sleep has a direct impact on your overall health. We owe it to ourselves and loved ones to take the subject of mattress shopping seriously. You have to come in and do the 'hard work of laying down.' Alright, so you've come to WG&R Sleep Shop and have become educated and feel confident you've made an informed decision regarding the best sleep system for your unique circumstances. Your delivery date has been set and anticipation sets in. Don't be surprised that after our delivery team has set up your new mattress and you've placed new sheets and pillows on it, you could end up too excited to sleep.

Casey: Like I said before, it's not about buying the biggest, baddest, most expensive thing money can buy. It's about you and what feels right for you. My goal is to help you find a bed that will relieve your pressure points, help you regulate your body temperature, and if you're willing, to get you to use an adjustable base to put your body into a more natural curvature while also helping your breathing and your circulation at the same time. Because when you're breathing right, and your heart doesn't have to work so hard, and your temperature stays cool enough, and you're not tossing and turning all night because of pressure points, it allows your heartrate to stay nice and low and your body to stay nice and still so that you're sleeping deeply and getting actual restful, regenerative sleep. And it's super easy to achieve.

Cody: Shopping for mattresses with an open mind about newer technologies will ensure you get the best fit for your sleep needs. Pairing a great mattress with an adjustable base can not only alleviate common sleep issues, but it will also take your comfort to the next level.
Be sure to visit any of our WG&R Sleep Shop locations to meet with a sleep specialist who will work with you to find the perfect mattress for your sleep needs.
Read our ultimate mattress shopping guide here.