It's hard to believe we're already halfway through summer! Whether we want to face it or not, fall is right around the corner and that means the start of a new school year. For those heading off to college, a new notebook and fresh planner may not be all that is needed.
From a dorm room to a first apartment, we've rounded up a list of our top back-to-school essentials that will ensure this semester's living quarters are well-furnished and the most stylish yet.
Essential #1: A Place to Sit
Our Jaden Sofa is covered with a soft polyester that is both comfortable and durable. The best part? Jaden is only $298.99 in our Clearance Centers every day!
Essential #2: A Place to Sleep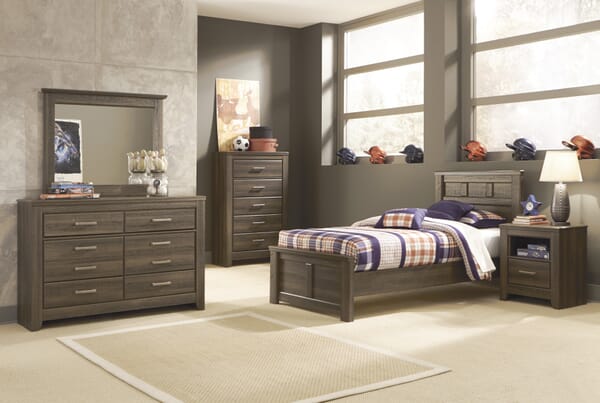 Our Juararo Twin Panel Bed has classic style that won't break the bank at only $219.97 every single day. Pair it with one of our Power Buy mattresses, like the new Sealy Amaro twin mattress for only $95.99, for a truly restful night of sleep after a hard day of studying.
Essential #3: A Place to Study
For maximum style that works when you're short on space, our Phoebe Desk has side-mounted shelves for storing your textbooks. The best part? It's only $219.99.
Essential #4: A Place to Rest
Let's face it: you're going to need a study break. Our Point II Futon is ideal for college dorm rooms and small apartments alike. It features an adjustable back for sitting ease, metal springs for seating comfort, and is only $319.98.