Your dining table. It's a beloved piece that gets used every day, but is it meeting your needs? If you answered no—or you're just in the market for a new dining set—read on for some tips on choosing the best table height for your space and lifestyle.
Before you get started on your search, it's important to consider these questions:
How often do you use your dining table?
Do you need a table that accommodates young children?
Do you entertain often?
Are you short on space?
Do you prefer a more formal or casual dining setting?
Answering these questions will indicate the most suitable dining table for your needs. Let's take a look at the three most common dining table heights and determine the best fit for you.
Standard Dining Height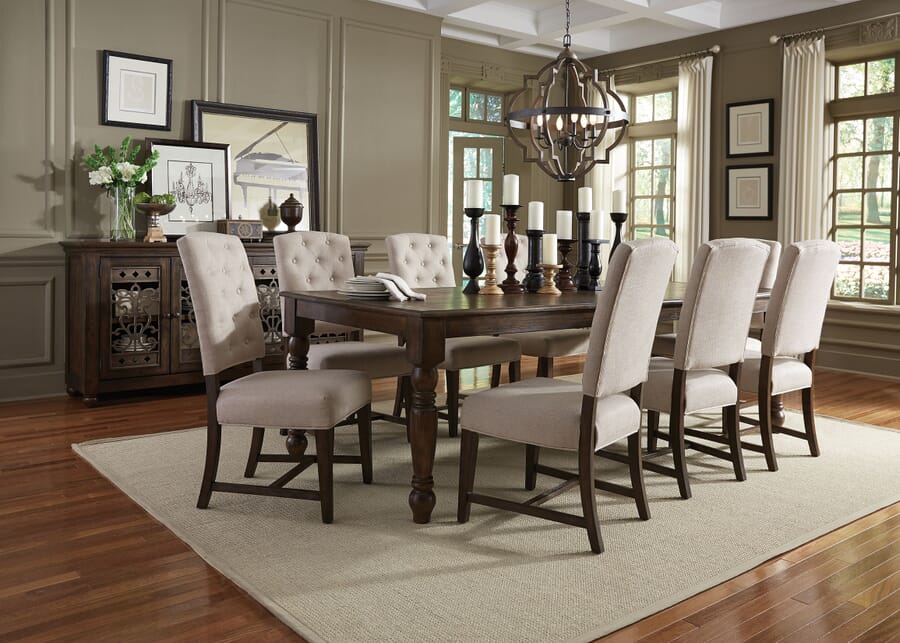 Generally 28″-30″ high from floor to table top, this is the most common dining table height and is therefore the one with the most options available for style, shape, color, and seating. If you entertain often or have young children, you can't go wrong with a standard dining table—whether you choose round, oval, square, or rectangle.
This is also the most flexible option when entertaining family, friends, or guests, because many standard dining tables come with options for extending or shortening the table on cue. Seating options for this type of dining table are also extremely flexible, allowing you to create a look that suits your style using any mix of arm and/or armless chairs, upholstered or non-upholstered chairs, and benches.
Our Recommendation: With options that seat as few as two to those that seat 10+, standard dining height tables are a good option for just about everyone.
Counter Height
Sitting around 34″-36″ in height, counter height tables are a great option if you want a slightly more casual look in your dining space. Also great for spaces that are on the smaller side, counter height tables sit a little higher and create a more open, airy look.
They are also perfect for those who entertain often because they are typically level with your counter tops, making them great for food preparation, staging, or for guests to enjoy snacks and beverages comfortably while sitting or standing. And if you have young children, counter height stools are still easy enough to get in and out of.
Our Recommendation: If you entertain often or just want a look that is more unexpected and refreshing, consider a counter height table. Just be sure to look for stools that are deemed counter height and range from 24″-26″ high from floor to seat.
Bar Height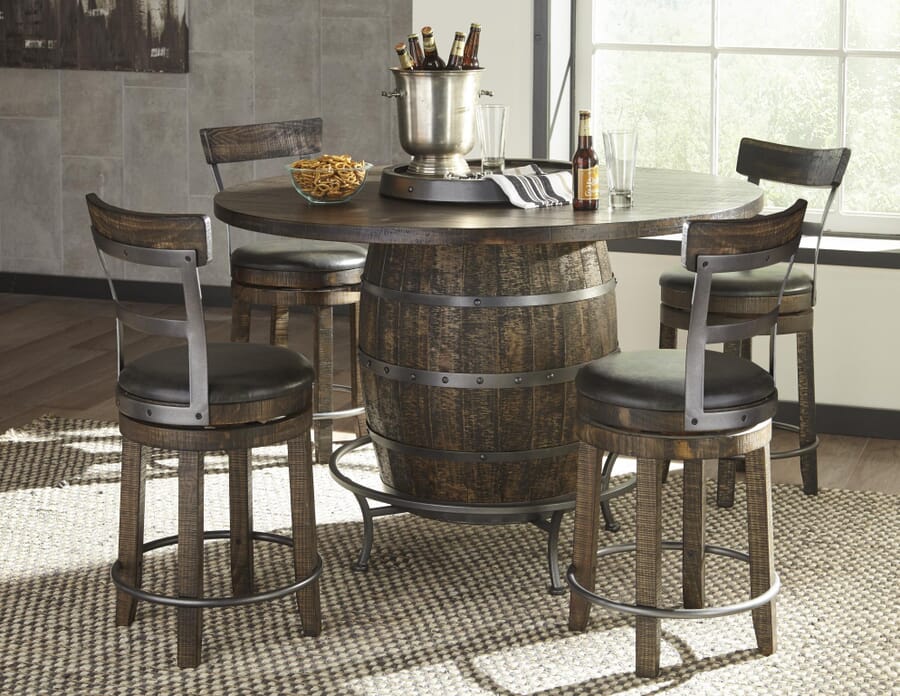 Typically at 40″-42″ in height, bar height tables (or pub tables) are the most casual option and are great for those who don't view dinnertime as a standard sit-down event. Bar height tables are great for hosting 2-4 people and are best at creating a conversational atmosphere. Informal entertaining is a breeze, as guests are free to sit or stand comfortably and move around as they please.
Our Recommendation: If you want to steer clear from a traditional dining experience, consider a bar height table. Seating is optional and should be 28″-30″ high from floor to seat. If you have young children, avoid bar height tables and look for more accommodating styles, like counter height or dining height.
Read our guide to choosing the best dining table type