Top 4 Exterior Renovation Projects to Complete Your Outdoor Oasis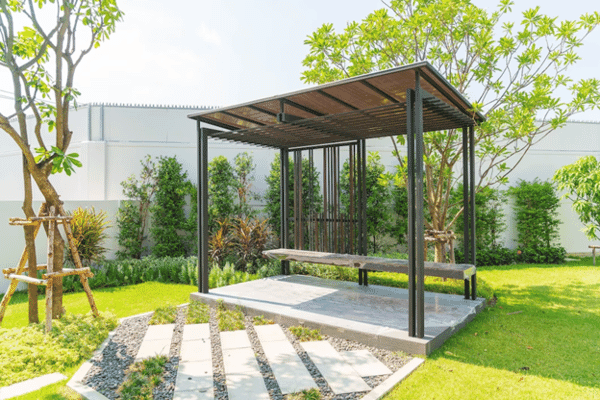 When it comes to home renovation, many people's minds immediately turn to the interior. Whether it's an upgraded kitchen or dream master bedroom, there are a number of interior renovation projects on homeowners' to-do lists.
However, in the years since the onset of the pandemic, exterior renovations have gone through the roof. From extending the functional square footage of the property to simply creating a cozy space to step outside and catch a breath of fresh air, homeowners are increasingly looking for creative ways to make use of their exteriors.
With this in mind, keep reading for a detailed breakdown of some of the top renovation projects to complete your outdoor oasis.
Rooftop Deck
For urban dwellers and homeowners with limited yard space, a rooftop deck provides the perfect solution for an amazing outdoor oasis. With the addition of a rooftop deck, homeowners gain valuable square footage and the opportunity to create an open-air living space for entertaining, relaxing, or gardening.
When building a rooftop deck, safety is of the utmost importance. It's critical to add structural b-decking for shear support and load bearing, as well as install composite rooftop flooring tiles to handle foot traffic and promote drainage. Low profile deck railing, such as glass or hog wire, should also be used to secure the perimeter without obstructing views.
When all of these safety considerations are accounted for, a rooftop deck is a great way to maximize your outdoor space and enjoy the outdoors in a unique way.
Outdoor Kitchen
An outdoor kitchen is an increasingly must-have space in many American backyards. It is a fantastic way to host company without having to worry about overheating your home or increased foot traffic damaging your interior. Homeowners can enjoy their outdoor kitchen in various ways, such as hosting barbecues, entertaining guests, or simply relaxing and enjoying the outdoors with family.
When building an outdoor kitchen, it is important to keep in mind the importance of knowing how to clean concrete patio surfaces. Food spills and inclement weather can take a toll on the concrete floor of the outdoor kitchen, so it is important to keep it clean and well-maintained to ensure longevity. Regular cleaning and sealing can help to protect the concrete from staining and weathering, and will help to keep the outdoor kitchen looking its best for years to come.
Fire Pit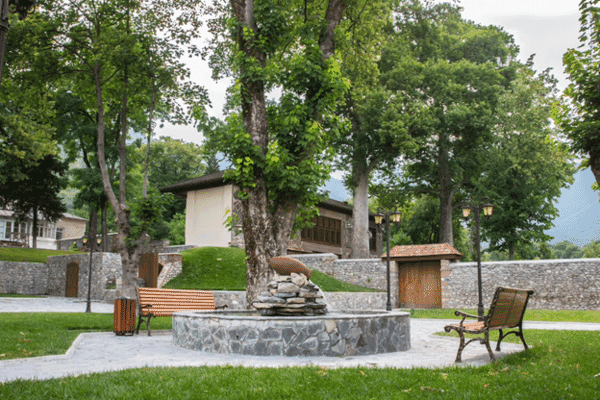 A fire pit is a great addition to any outdoor oasis, as it can be used for warmth and ambience. It creates an all-important focal point toward which people will undoubtedly gravitate.
There are many different ways to install a fire pit, from simple metal bowls to more elaborate stone structures. Pavers are an important part of any fire pit installation, as they help to promote longevity by protecting the surrounding area from heat damage. They also provide a decorative accent that can complement the design of the fire pit and surrounding area.
When choosing pavers, it is crucial to select those that are specifically designed for use around fire pits in order to ensure that they will not crack or break due to the high temperatures. Composite pavers make a great choice, as they have the highest fire resistance rating on the market and come in many attractive designs.
Traditional Deck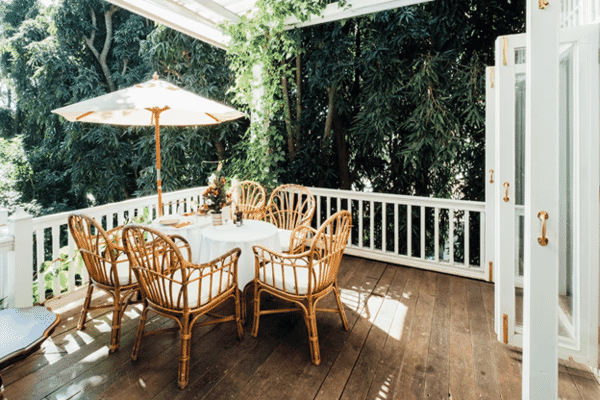 Although it is not necessarily the most grandiose undertaking, few projects can match the convenience and enjoyment of a traditional deck. By adding a deck to your home, you can instantly create an inviting and desirable outdoor living space that is perfect for entertaining guests, relaxing with family, or simply enjoying the outdoors.
One of the primary benefits of a deck is its accessibility. Attached directly to your house, a deck provides a seamless transition between indoor and outdoor living spaces. This makes it ideal for entertaining or simply enjoying the fresh air without the hassle of navigating separate structures or yards.
To make your deck even more inviting and desirable, consider incorporating a pergola or awning. This will provide shade and protection from the sun and rain, making your deck a comfortable and enjoyable space regardless of the weather.
Composite decking boards are also an excellent choice, as they are resistant to splintering and rotting. They are durable, low-maintenance, and come in a variety of colors and styles to suit your preferences.
When selecting furniture for your deck, opt for functional pieces that are comfortable and won't easily move in the wind. Deep seating, plush cushions, and sturdy tables will create a cozy and inviting atmosphere for relaxation and entertainment.
Finally, consider adding a pass-through window from your kitchen to your deck. This convenient feature will make it easy to serve food and drinks while entertaining guests or enjoying meals al fresco.
In order to maximize the benefits of a deck, it is crucial to ensure that your deck is built on a firm foundation. Make sure you understand how to waterproof under a deck to prevent erosion and rotting concerns. This will not only enhance the longevity of your deck but also guarantee its safety and stability for years to come.
Get Started On Your Outdoor Oasis Today
There are countless ways for homeowners to maximize their exterior space and create a welcome change of scenery on their property. If you are looking for furniture to help make your outdoor oasis complete, explore the options at WG&R Furniture to find the perfect piece!
Natalie Akins is a freelance writer that loves sharing her knowledge and expertise on interior design and remodeling. She also has a background in Commercial and Residential Real Estate. She lives in her hometown of Austin, Texas where she enjoys spending time with her husband and decorating with her children. Natalie's work as a freelance writer can be found on Building Product Advisor, a new construction industry resource site.