Choosing a crib for your newborn is one of the most exciting—and intimidating—decisions you'll ever make. After all, there's style, budget, and safety to consider.
That's why we're so excited to introduce our new Lucca collection. This affordable collection includes cribs that can convert to a toddler- or full-size bed and a dresser with matching dresser kit that converts it into a changing table during those precious infant years. This makes Lucca your best bet as a furniture investment since it will accommodate your child from their infant years all the way through to their teenage years.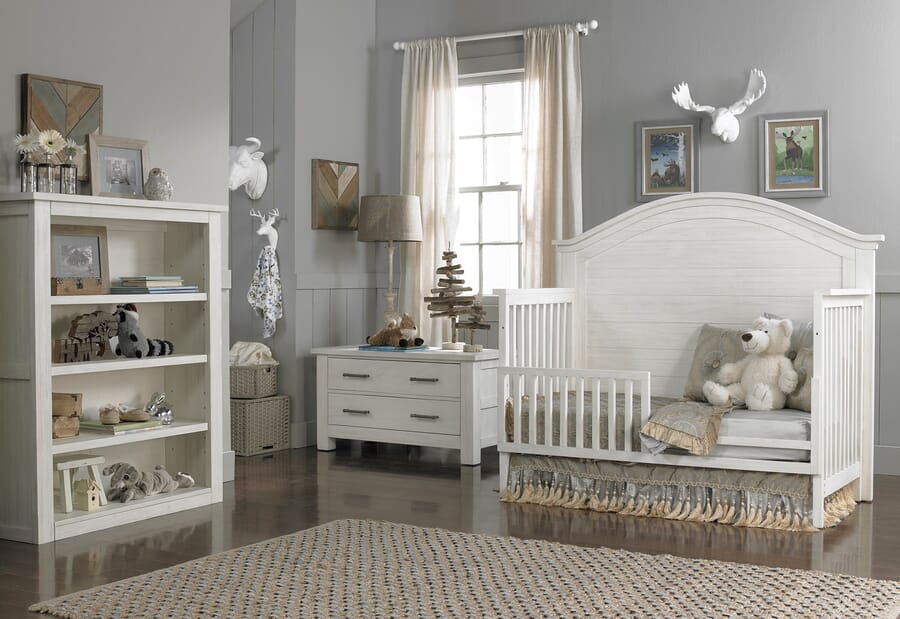 And when it comes to purchasing a comfortable, safe mattress for your little one, we have that too! The Lucca crib mattress is two-sided and has a removable organic blend cover that is water resistant. One side of the mattress features firmer foam to more safely support your infant, while the other side is softer and is intended for toddlers.
Style details for the beautiful Lucca collection won't go unnoticed, either. With inviting farmhouse chic styling and simple plank-stacked panel headboard (in a flat top or arch top design), rustic wood finish, and cast metal hardware, Lucca is available in three gorgeous finishes that will work in any nursery: seashell white, weathered brown, and weathered grey (available by custom order only).
Visit our Appleton or Green Bay locations to see the Lucca collection for yourself and learn more about the additional pieces available to custom order.
And keep reading for safe sleeping tips below!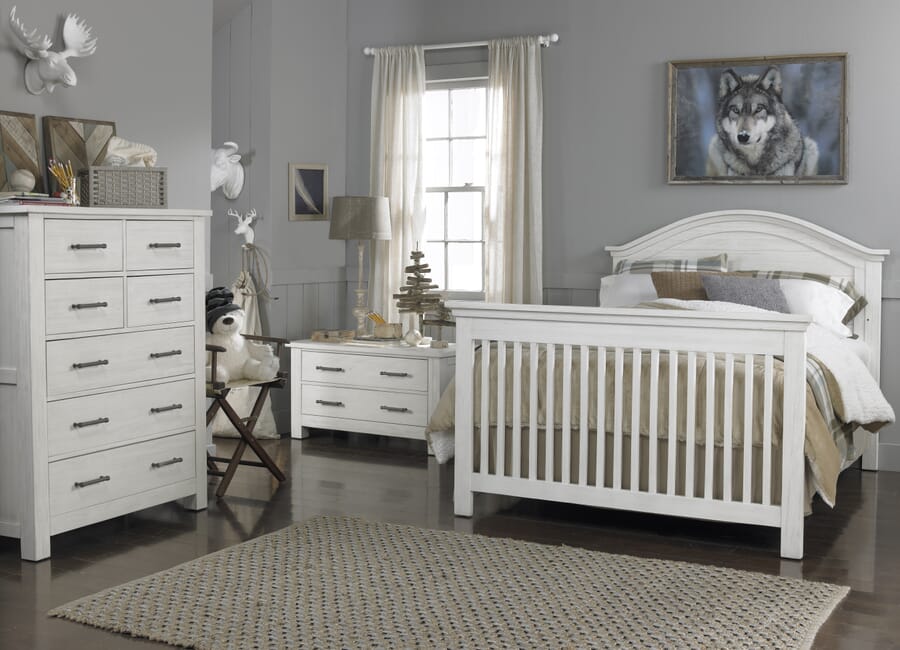 Tips for Safe Sleeping
Because safety is so important, we're proud to announce that our Lucca collection meets the highest standards and is certified by the Juvenile Products Manufacturers Association (JPMA). It's also complaint with American Society for Testing and Materials (ASTM) recommendations and Consumer Product Safety Commission (CPSC) recommendations. Furthermore, it meets or exceeds all federal government safety regulations. This is great news considering your newborn will spend up to 16 hours per day in their crib during the first few months.
Here are some safe sleeping tips for your little one provided by The American Academy of Pediatrics (AAP):
To reduce the risk of Sudden Infant Death Syndrome (SIDS), infants should always sleep on their back until the child reaches one year of age. Side sleeping is not safe and is not advised. Remember, "Back to Sleep for Every Sleep."
Infants should be placed on a firm sleep surface (e.g., mattress in a safety-approved crib) covered by a fitted sheet with no other bedding or soft objects to reduce the risk of SIDS and suffocation.
Breastfeeding is associated with a reduced risk of SIDS. Unless contraindicated, mothers should breastfeed exclusively or feed with expressed milk (i.e., not offer any formula or other non-human milk-based supplements) for 6 months, in alignment with recommendations of the AAP.
It is recommended that infants sleep in the parents' room, close to the parents' bed, but on a separate surface designed for infants, ideally for the first year of life, but at least for the first 6 months to decrease the risk of SIDS by as much as 50%.
Keep soft objects and loose bedding away from the infant's sleep area to reduce the risk of SIDS, suffocation, entrapment, and strangulation.
Although the mechanism is yet unclear, studies have reported a protective effect of pacifiers on the incidence of SIDS. The protective effect of the pacifier is observed even if the pacifier falls out of the infant's mouth.
For more safe sleeping tips, visit the AAP website here.