Buying your first home is exciting, but if you're overwhelmed by the thought of furnishing it we're here to help. Of course you'd like to have every room completely furnished all at the same time, but oftentimes that isn't realistic. That's why we've assembled a guide of the absolute essentials that will get you off to a great start and will make your new house feel like home.
1. A comfortable place to sit
A great piece of seating will be one of the most used pieces of furniture in your home, so give it proper consideration before you make your purchase. As one of the largest categories of furniture, selection won't be an issue, so you'll need to have a plan as you begin your search. Your budget will be a good starting point, but there is also type, configuration, style, fabric, and shape to consider – not to mention the layout and/or limitations of your living room.
You'll also want to consider the other pieces of furniture that will be going in your living room to determine whether or not you go with a solo sofa, sofa and loveseat combo, or sectional. If you want your living room to be furnished as quickly and easily as possible, look for room packages that often come complete with seating, tables, lamps, and a rug.
2. A classic dining set
The kitchen is the heart of the home, so it's a good idea to choose a dining set that will best fit the needs of you and your family. Again, you'll want to consider budget, size, shape, style, height, and materials used. If your dining space is on the small side, a round or square table would be best. If you really need something with a small footprint, dropleaf tables are always a good option.
On the other hand, if you have a large family or tend to entertain often, a rectangular table is your best bet. There are several options that even have leaves or extension mechanisms built right in so you can really stretch the functionality of your table when needed.
3. Versatile tables
In addition to helping you complete the look of your room, occasional tables are extremely functional. And the more versatile they are, the better. You can certainly choose a traditional setup with a cocktail table and two end tables, but consider other options that are available. These include chairside tables, nesting tables, accent tables, ottomans, and footstools. Nesting tables are a great option for smaller spaces, and small ottomans or footstools can be used side-by-side to create an interesting "cocktail table" setup that can be easily moved around when needed.
If you really want to make your tables work for you, look for convenient features like storage drawers, baskets, shelves, lift-top storage, pullout trays, and even built-in USB ports and electrical outlets.
4. Great lighting
A great piece of lighting can make all the difference when it comes to adding the finishing touch to your space. Not to mention, it's an easy way to bring your style into your space and experiment with more trendy pieces without making a huge commitment. If your home has outdated or unwanted overhead lighting, you could always look into installing dimmers into your light switches. Or you can replace harsh ceiling lighting with a beautiful chandelier or pendant.
Floor lamps and table lamps are great for seating areas, especially where activities like reading and writing are more likely to take place. Depending on the look and feel you're trying to achieve, consider the base and shade. If you're trying to avoid blocking great views through a window, consider a minimal or clear base with a shade that is made from sheer fabric. And don't be afraid to think outside of the box when it comes to table lamps. Wall sconces are an excellent option to consider instead in places like the master bedroom.
5. A beautiful bedroom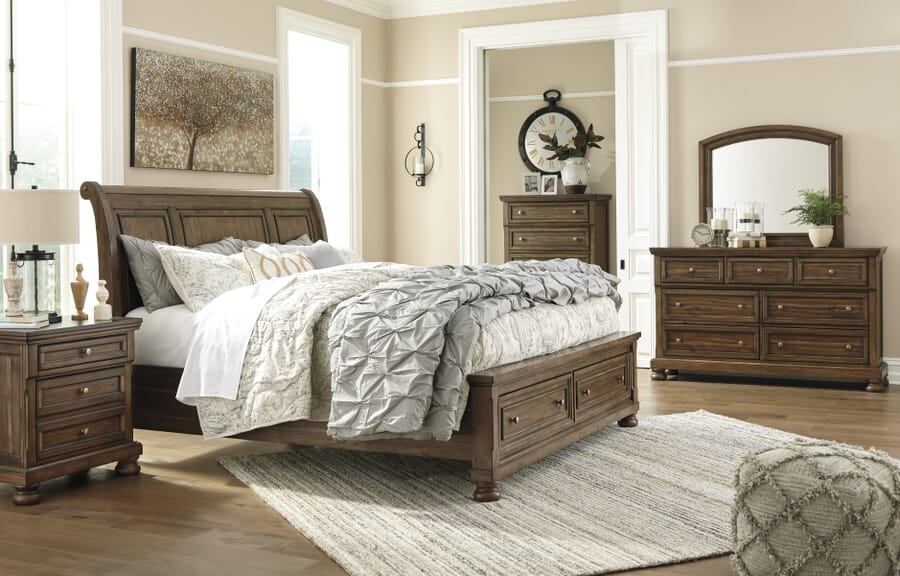 What better way to start and end your day than in a bedroom with furniture you love? There are so many styles, materials, and options when it comes to beds. From panel, sleigh, poster, canopy, platform, and upholstered, the style of your bed will set the tone for the entire room. And then there are storage options to consider, like dressers, chests, nightstands, armoires, or even storage that is built right into your bed.
If you're looking once again to make furnishing an entire bedroom as easy as possible, explore the convenience of pre-determined bedroom packages that often come with a bed, dresser, mirror, chest, and nightstand.
6. A quality mattress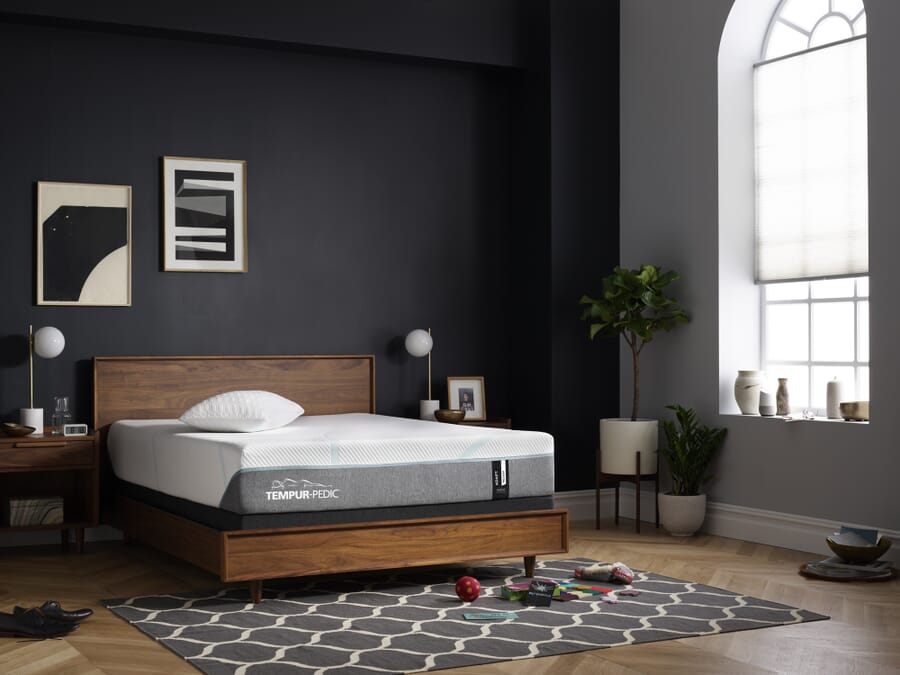 It's no secret that a great night's sleep is so important for your health and overall well-being. In fact, you'll spend one-third of your lifetime sleeping, and that's why it's a great idea to invest in a new mattress to coincide with moving into your new home, especially if it's been 7+ years. (Read our tips for a better night's sleep here.)
With all the advanced sleep technology and improved materials that are so prevalent today, the only way to truly know which mattress is right for you is to test them out in-store. From top name brands like Tempur-Pedic, Sealy, and Nectar, to quality factory direct options, keep an open mind when mattress shopping. It may be tempting to narrow your choices by deciding you'll only consider soft-feel mattresses, for example, but softness varies from brand to brand, so you may be eliminating options that are truly best for you without even giving them a try.
When selecting the right mattress size, keep in mind that many bedrooms are built to accommodate queen size beds, so measure the room first before going with a king, especially if you're planning on incorporating several matching storage pieces. And once you've selected a mattress, measure its height along with the box spring to ensure you're happy with the complete look on your bed.