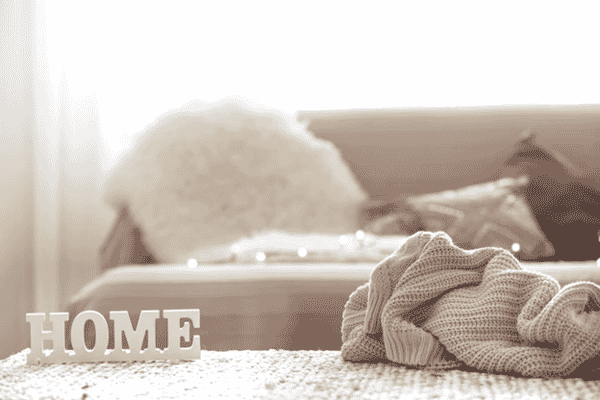 Although a house is made up of various rooms and functional spaces, there is no area that speaks to the sense of home quite like the living room. It is the space where people will spend the majority of their awake time and is often the only area that guests will see when they come over for a visit. If the living room is cluttered and uncoordinated, the sense of chaos will leave an indelible impression. To help avoid this scenario, keep reading for some expert tips on designing a cozy and inviting living room!
Add Natural Accents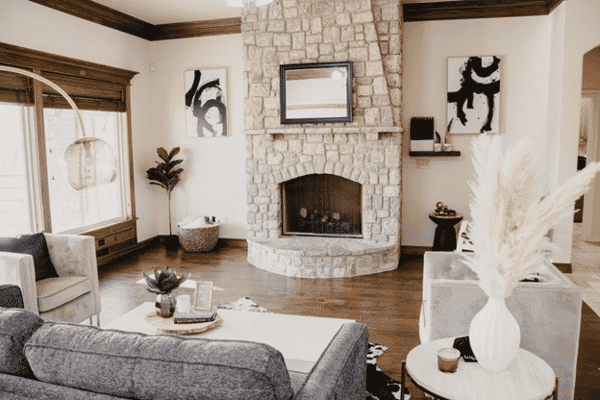 One way to add coziness to your living room is to incorporate natural accents. Natural accents can help to bring the outdoors in, and they can also create a sense of warmth and texture for the space. There are a number of ways to incorporate natural accents to your living room, including:
Using plants – Plants are a great way to add life and color to a space. They can also help to improve air quality. When choosing plants for your living room, be sure to select ones that are easy to care for and that will thrive in the amount of light that your living room receives.
Installing larger windows – If you have the opportunity, installing larger windows is a great way to let more natural light into your living room. This can help to make the space feel brighter and more airy.
Using exposed wooden ceiling beams – Exposed wooden ceiling beams can add a sense of warmth and character to a living room. They can also help to make a space feel taller and more spacious.
Adding stone to the fireplace – Stone is a natural material that can add a sense of warmth and texture to a living room. If you have a fireplace, consider adding stone veneer for fireplace to the surround. This can help to create a focal point in the room and make it feel more cozy.
By incorporating natural accents into your living room, you can design a space that is both cozy and stylish.
Experiment With Soft Lighting
Soft lighting is an essential element in creating a cozy living room space, as it can help to make the room feel more intimate. There are a number of ways to achieve soft lighting in a living room, including using dimmer switches, installing lamps with soft shades, and using candles.
Dimmer switches are a great way to control the amount of light in a room. They allow you to dim the lights to create a more relaxing atmosphere, or to brighten them up when you need more light. Lamps with soft shades can also help to create soft lighting. The shade will help to diffuse the light, making it less harsh and more flattering. Candles are another great way to add soft lighting to a room. They provide a warm and inviting glow, and they can also help to add a touch of fragrance to the room.
By using soft lighting, you can create a cozy and inviting living room space that is perfect for relaxing and entertaining guests.
Incorporate Sound Mitigation Features
The living room is a place to kick back and relax. It is a place to read the morning news, drink a cup of coffee, or just chat with family. However, it can be difficult to relax in a noisy living room. If you have kids playing throughout the house, a bustling kitchen, or even noisy neighbors, it can be tough to find peace and quiet in your own home.
There are a few things you can do to reduce sound in your living room and make it more cozy. One option is to use paint for soundproofing. Soundproofing paint is a type of paint that helps to absorb sound waves. It can be applied to any surface in your living room, including the walls, ceiling, and even furniture. Soundproofing paint can add style to your space while also reducing echo and noise.
Another option is to use acoustic wall panels. Acoustic wall panels are made from a sound-absorbing material, such as fiberglass or foam. They can be hung on the walls of your living room to help reduce sound. Acoustic wall panels can be a stylish way to temper noise in the space.
Finally, you can also use area rugs to help reduce sound in your living room. Area rugs can help to absorb sound waves and reduce echo. They can also help put the finishing touches on your interior design scheme.
Consider Shiplap Ceilings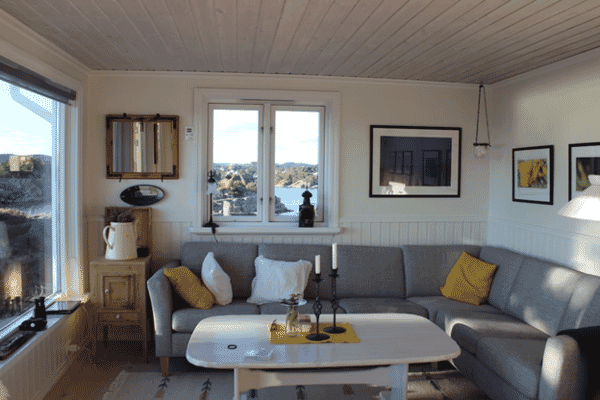 A shiplap ceiling is a type of ceiling that is made from overlapping planks of wood. The planks are typically narrow and have a slightly beveled edge, which creates a subtle shadow line between each plank. Shiplap ceilings can add depth, dimension, and texture to a living room, making it feel more cozy and inviting.
There are many different ways to incorporate a shiplap ceiling into a living room. One popular option is to install the shiplap planks directly over the existing drywall. This is a relatively easy and inexpensive way to add shiplap to your ceiling. Another option is to build a new ceiling frame and then install the shiplap planks on top of the frame. This method is more labor-intensive, but it allows you to create a more custom look.
No matter which method you choose, adding a shiplap ceiling to your living room is a great way to add warmth and character to your space. Here are some shiplap ceiling ideas to get you started:
Use a light-colored shiplap to brighten up a dark living room.
Install a dark-colored shiplap to add drama to a neutral living room.
Consider a mix of different-sized shiplap planks to create a unique look.
Add shiplap to just one section of the ceiling to create a focal point.
Use shiplap to create a coffered ceiling design.
With so many different options to choose from, you're sure to find a shiplap ceiling that's perfect for your living room.
Get Started Today On a More Welcoming Living Room Design
Having a cozy and inviting living room is critical for setting the tone for the rest of your home. For more ideas and inspiration on how to design a cozy living room, check out the resources at WG&R Furniture for the latest trends and finds in the interior design industry!
Natalie Akins is a freelance writer that loves sharing her knowledge and expertise on interior decorating and remodeling. She lives in her hometown of Austin, Texas where she enjoys spending time with her husband and decorating with her children. Natalie's work as a freelance writer can be found on Building Product Advisor, a new construction industry resource site.