Let's face it: we all love sitting down to watch a good movie or a favorite TV show. In fact, it is said that the average American spends upward of five hours in front of the big screen per day. That's a lot of screen time!
You likely put in a lot of time researching your new TV, but equally important is finding a home entertainment solution that adequately supports your TV and works well in your space. How do you determine the right fit for your home? Read on for our complete buying guide.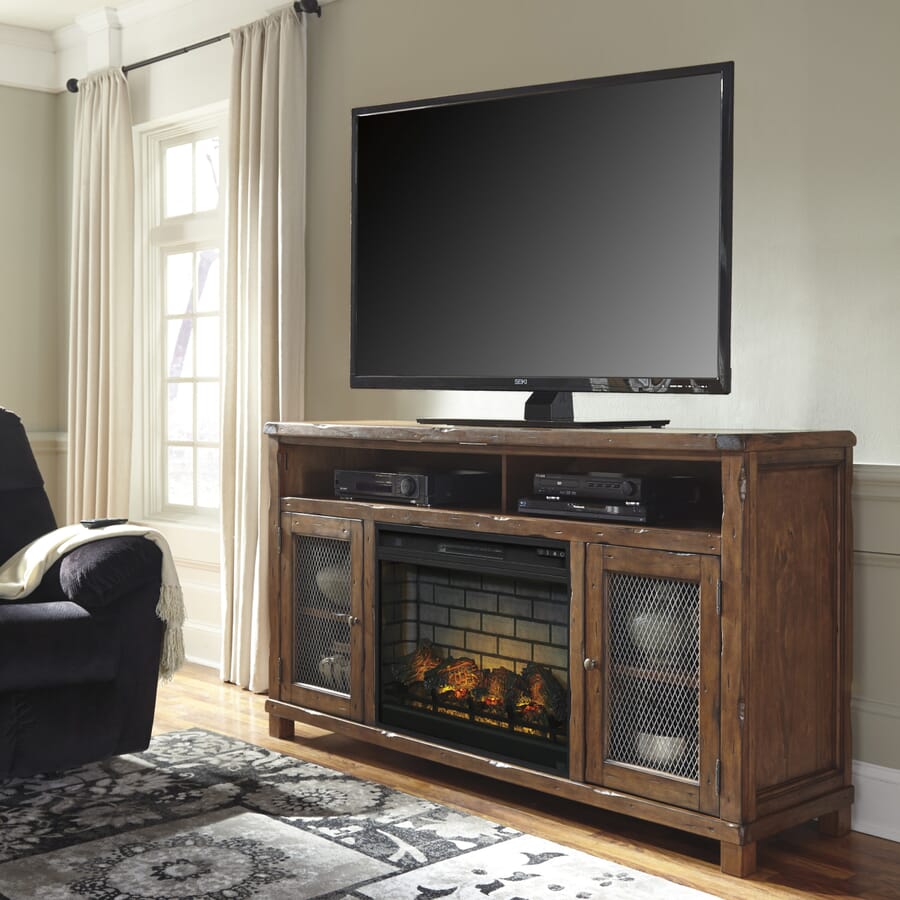 Before You Shop
Find the True Size of Your TV
When shopping for a new TV, you typically have an average size in mind which narrows down your options and makes the buying process a bit easier. But regardless of the size you end up choosing, the manufacturer is really advertising the diagonal length of the screen itself. That means a 55″ TV, for instance, is only a representation of the diagonal length from the bottom left corner of the screen to the top right corner of the screen.
In order to get the true size of your TV, you'll need to measure the overall width starting from the far left edge of the TV (or bezel) to the far right edge. You'll also want to measure the overall height (from the TV's base to the top edge of the bezel) and the overall depth (from the front of the TV to the back, including the TV's base). Your TV stand will need to accommodate overall width, depth, and height measurements to provide a comfortable, stylish, and safe viewing experience.
How to Find the Correct Size TV Stand
Now that you have the actual dimensions of your TV, you'll have a better idea as to which size TV stand is needed. You'll want to look for a stand that is at least 2-3″ wider than the overall width of your TV on either side. You'll also want to make sure there is enough room in front of and behind your TV.
Allowing for adequate room on all sides will ensure that your TV stand not only safely accommodates your TV, but follows basic interior design principles in avoiding a look that is too top-heavy or unbalanced.
Measure the Height
For an optimal viewing experience, you'll want to make sure your TV stand supports your TV at a height that is naturally comfortable. Buying a TV stand that is too tall or too short can create or exacerbate existing neck- or eye strain issues. The general guideline is for the center of your TV to be at, or just below, eye level.
To calculate the optimal height of your TV stand, measure the distance from the floor to the average sightline of viewers in your household. Once you have that number, subtract half of the TV's height. Your TV stand should fall within an inch or two of the difference.
Go The Distance
In addition, you'll want to ensure your TV is at the proper distance from where you'll be viewing it. The general rule of thumb is to place your TV at a distance that is twice the length of your screen size (remember, this is the diagonal measurement!). So a TV with a 55″ screen size, for instance, should be placed at a distance of 110″ away.
Placement Is Everything
Lastly, if the layout of your room allows for flexibility in the placement of your TV, try as much as possible to keep it away from heating/cooling vents and windows. You'll also want to keep it out of direct sunlight to avoid daytime glare.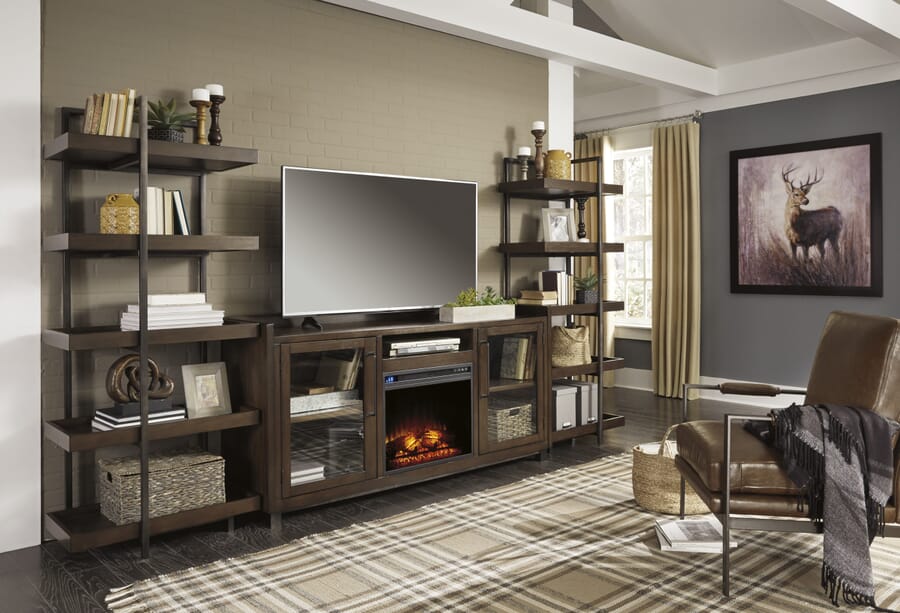 TV Stand Style Guide
Now that you have a general guide in choosing the right size TV stand for your TV, it's time to shop! There are several different styles to choose from depending on the layout of your space, so we've put together a complete style guide below.
Small
Consists of a wide variety of style options. When you need compact design for a smaller space, consider a smaller scale TV stand that effortlessly supports your TV without overtaking your space.
Styles to consider:

TV credenzas
TV consoles
Corner consoles

Common size range:

Perfect for:

Studio apartments
Lofts
Bedrooms
Playrooms
Medium
When you need a solution that offers more surface area in addition to built-in storage features, a medium TV stand is the perfect fit for you. Many options even offer fireplace inserts that can add warmth to your space while you tune in to your favorite shows.
Styles to consider:

TV credenzas
TV consoles
Fireplace consoles

Common size range:

Perfect for:

Living rooms
Master suites
Home theaters
Large
When you're serious about catching all the latest movies and television series—and let's not forget about gaming—you'll find large TV stands especially useful. In addition to the optional fireplace insert we mentioned above, you'll find any number of built-in shelves, drawers, compartments, and cabinets for organization and storage. You'll also find convenient wire management cutouts to keep unsightly cords and wires out of sight.
Styles to consider:

Wall units
Entertainment centers
Media cabinets
Media consoles
Fireplace consoles

Common size range:

Perfect for:

Living rooms
Home theaters