How do you know if a sectional is right for you? There's a reason so many people are choosing sectionals over sofas, and it's easy to see why. With diverse options offered in both fabric and leather, it's easy to get the exact configuration you need with the convenient upgrades you want. Here's why  you should consider a sectional as your next living room mainstay.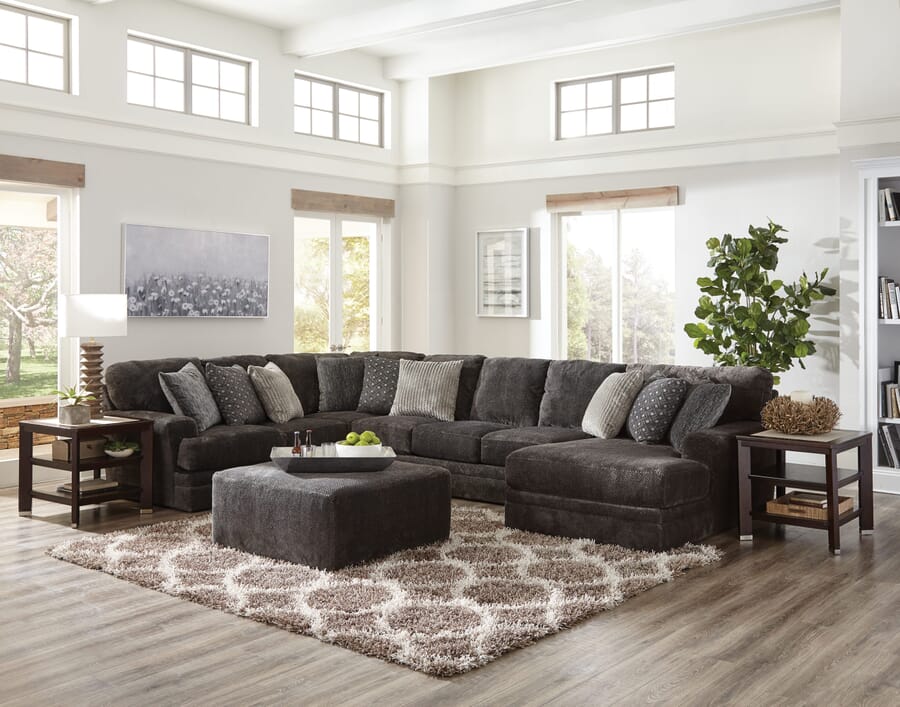 So why should you consider buying a sectional? There are quite a few reasons, actually, but the most appealing is that it provides options. Many sectionals can be configured to fit your space with a variety of individual pieces, ranging from sofas, loveseats, chaise lounges, corner wedges, armless options, as well as RAF (right arm facing) and LAF (left arm facing) options.
The configuration of your sectional will depend on the size, layout, and purpose of your space.  For example, if the primary reason for your sectional is for family movie nights, you'll want to consider a configuration that gives everyone a good view of the TV without requiring them to sit at an awkward or uncomfortable angle.
The latest sectionals include convenient features that make relaxing and enjoying time with family or friends even more enjoyable.  These features can include power reclining, dropdown consoles, cooling cupholders, and heated massage.  In addition, some of the sofas you see in our showrooms can be custom ordered as a sectional.  Depending on which sectional you choose, the custom options can range from simply selecting a fabric, to adding power control features, to completely building it from scratch in a configuration that suits your space perfectly.
So here's a look at some of the most popular types of sectionals to help guide you in choosing the right one for your family.
Chaise Sofa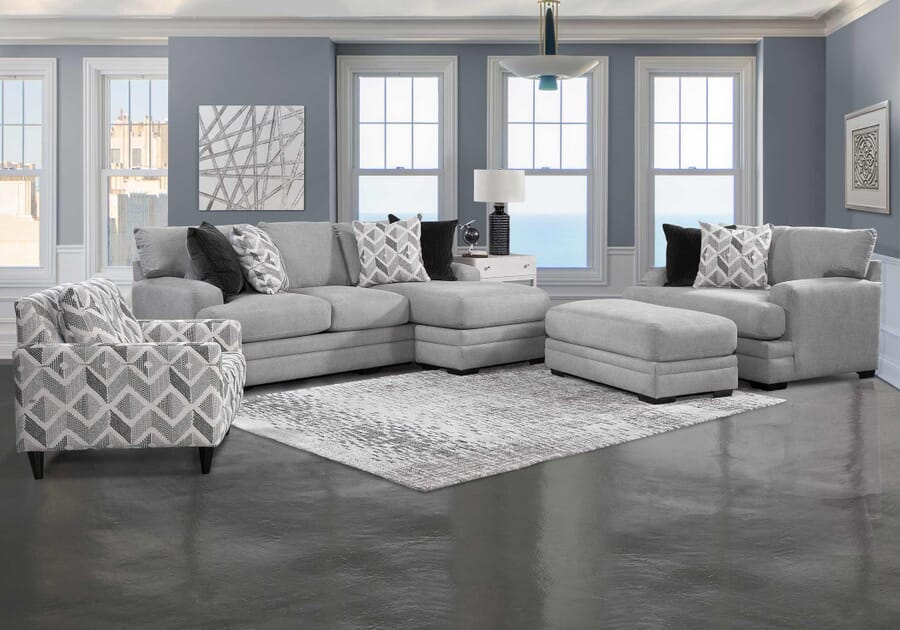 Whether you call it a two-piece sectional or a chaise sofa (a.k.a. "chofa"), this configuration is essentially a sofa with an attached ottoman on one side. It's also the most small-space friendly configuration and is a great option for those wanting the extra leg room without having a ton of space for larger sectional configurations.
Stationary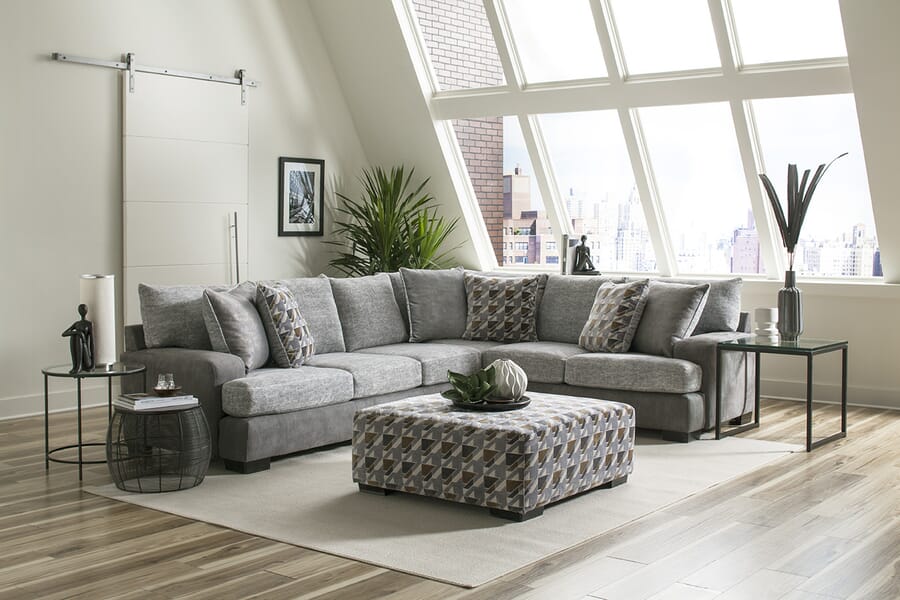 Although this can be described as the most standard type of sectional, it is certainly not basic. The most pared down options will range from a few additional fabric selections or the ability to custom order in a reverse configuration from what is shown. More advanced options can include a wide selection of sectional pieces to choose from to configure the best fit for your space. Cushion, fabric, and finish upgrades are also common.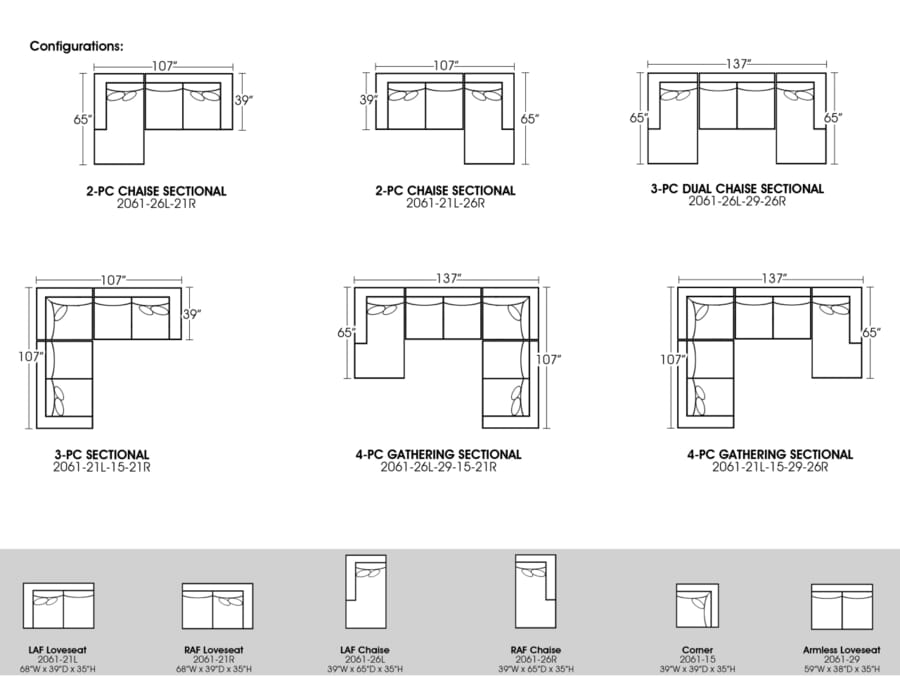 An example schematic sheet that shows several configuration options that can be offered with a single sectional style.
Reclining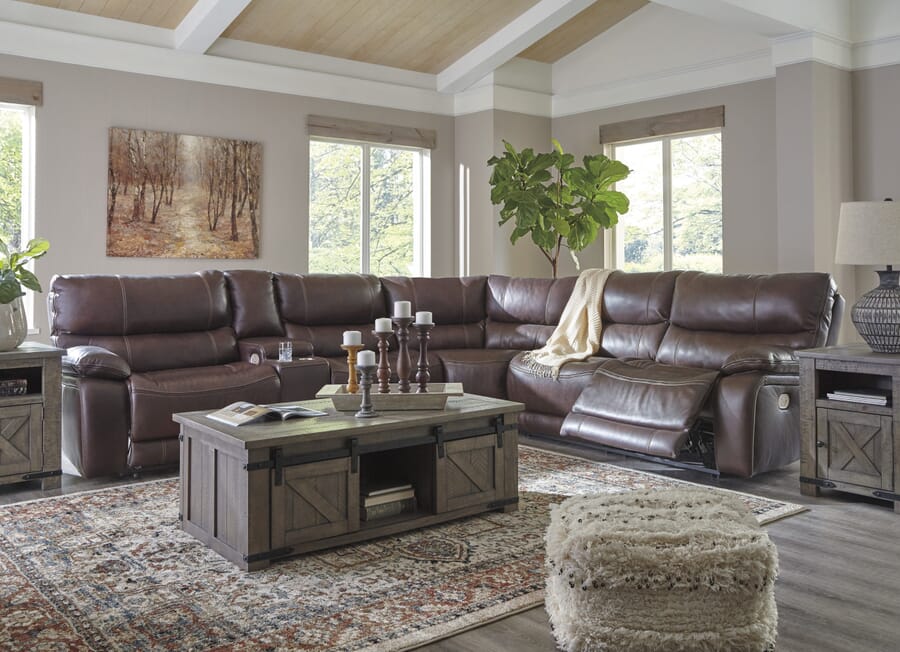 What could be better than a roomy sectional to relax in? One that reclines. Whether you choose a manual or power reclining configuration, these sectionals include individual recliners that help you get comfortable even faster. Plus, many power recliners are now coming standard with power headrest, power lumbar, and USB port options.
Modular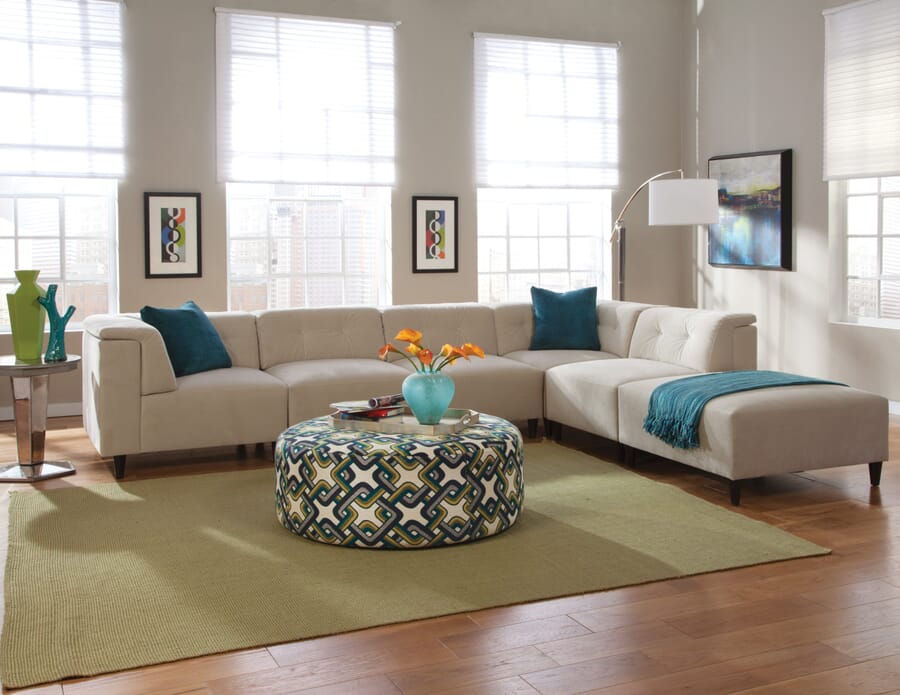 Modular sectionals provide the most versatility. They can be arranged in any number of configurations and can usually be split apart to create separate seating areas when you want to rearrange your living room. Ottomans are also a great addition to your modular sectional configuration because they can be placed on either end of the sectional or in front for extra leg room.
Picking out the perfect sectional can be a lot of fun. Visit one of our WG&R store locations today and talk to a sales associate about your wants and needs, then let us show you some great options that will work within your style preferences and budget.  If you need some help getting started, write down a list of your wants and needs and bring them with you.  And, as always, our nifty Room Planner is available for you to use anywhere, anytime.