They say the kitchen is the heart of the home, and we couldn't agree more.  With a room that gets this much attention, you shouldn't take the purchase of a dining set lightly.  In addition to the usual considerations – like purpose, size, material, etc. – you'll also need to consider shape.  This may seem daunting, but the great news is that there are such a variety of options nowadays that you're sure to find exactly what works for your style and space.  So let's get started!
Dining Table Type: Rectangle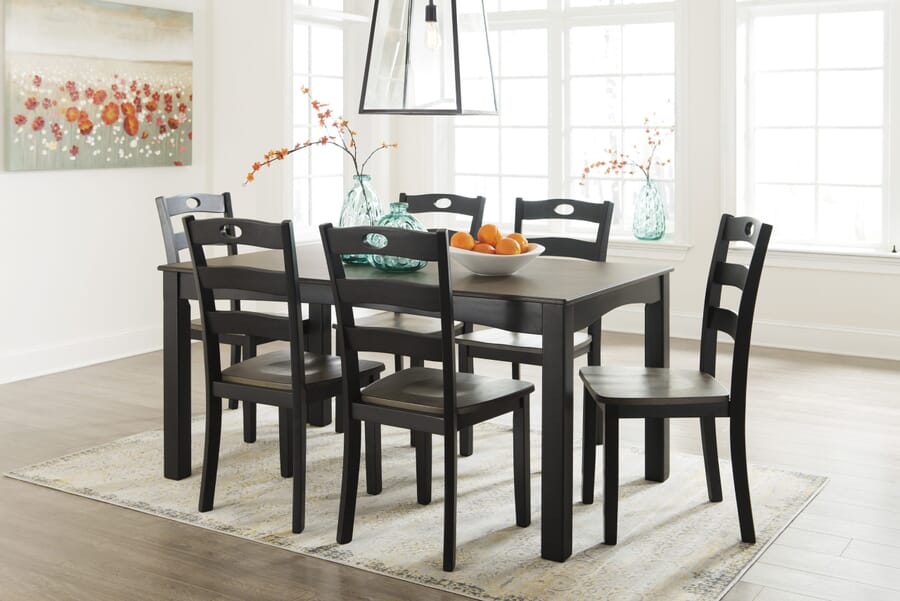 When we close our eyes and think "dining table," the first image that comes to mind is one that employs a rectangular shape. We would go so far as to say that this is the most popular dining table shape and is the easiest to find in a diverse range of style preferences.  Those who frequently entertain friends or have a large family will love the accommodating size for seating a large number of guests with ease.  Styles that include an optional leaf (or two) are great for taking up less space on a daily basis while being flexible enough to seat more guests in a flash.
Rectangular tables work well in long dining rooms or large spaces, but that doesn't mean that small kitchens or dining areas can't accommodate them too.  As long as the table doesn't obstruct a main walkway and works with the flow of the space, a rectangular dining table can actually be a great multitasking space saver because it can seat a larger number of guests while taking up the least amount of space due to its shape. If your space simply won't accommodate a rectangular table, consider a square shape instead.
For those with a more traditional style, a mix of matching side, arm, and hostess chairs will create a formal yet inviting look. For those who prefer a more casual or even contemporary style, mix in a bench or two for an updated seating arrangement that can freshen up the look of your dining arrangement in an instant.
Dining Table Type: Round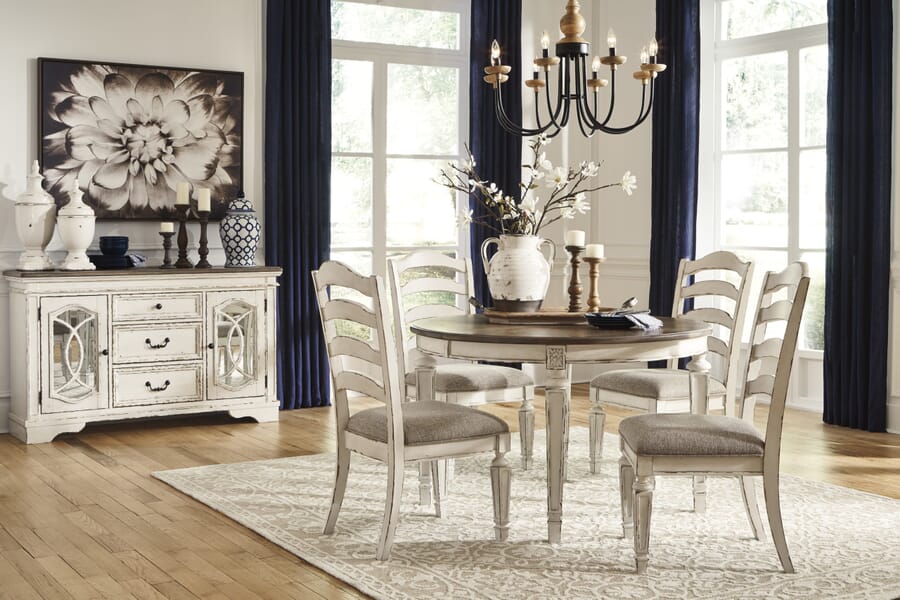 If you want to encourage a feeling of warmth and intimacy with every meal, may we suggest a round dining table.  For the close-knit family of four or the happy couple just starting out their new life together, a round table is ideal.  It is also a space-saver and encourages togetherness with its lack of sharp corners and severe lines.
As with rectangular tables, round tables come in a diverse range of styles, materials, and heights.  For a more traditional style, look for intricate details especially in the base.  For more casual or contemporary looks, seek a metal composition, pedestal base, or streamlined styling.  Glass table tops are also making quite the comeback and can help to "open up" a small space with their transparency.
Dining Table Type: Dropleaf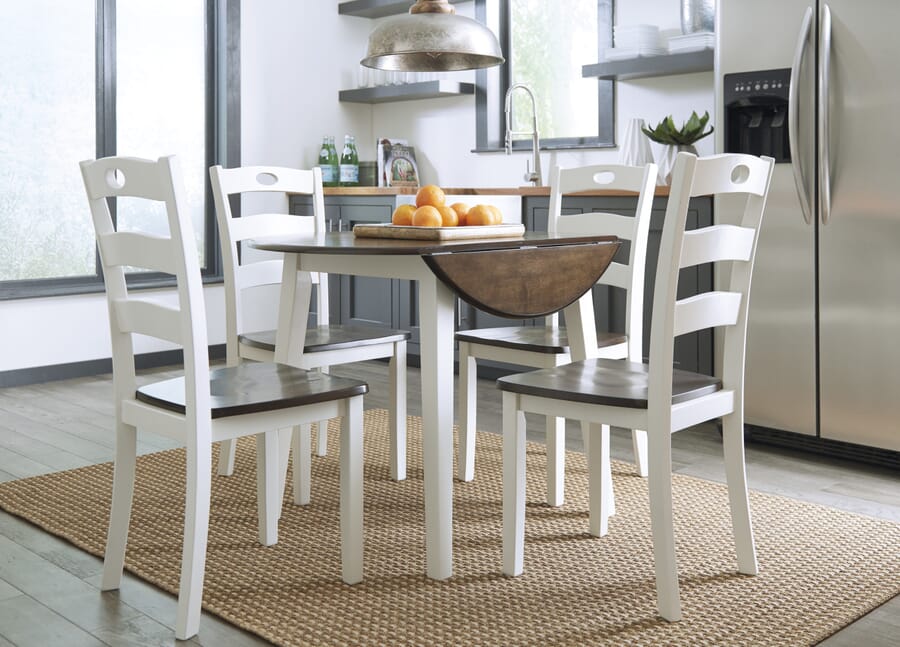 When you want furniture that goes above and beyond basic functionality, consider a dropleaf table design.  It's compact enough for apartments or small kitchens and provides just the right amount of surface space.  As its name suggests, dropleaf tables have one or two leaves that can drop down when not in use to save on space.  Many styles multi-function even further with table base storage for dinnerware, drinkware, or wine.  How great is that?
Read our guide to choosing the best dining height