There are a variety of living room tables (a.k.a. occasional tables) that are designed to be placed in front of, next to,  or behind your favorite piece of seating. While you're probably familiar with the most commonly used styles—coffee tables, end tables, and chairside tables—there are several other options available that can also maximize your living room's functionality and elevate its overall design.
If you're interested in knowing all of the options and materials available when choosing the best tables for your space, keep reading this ultimate style guide.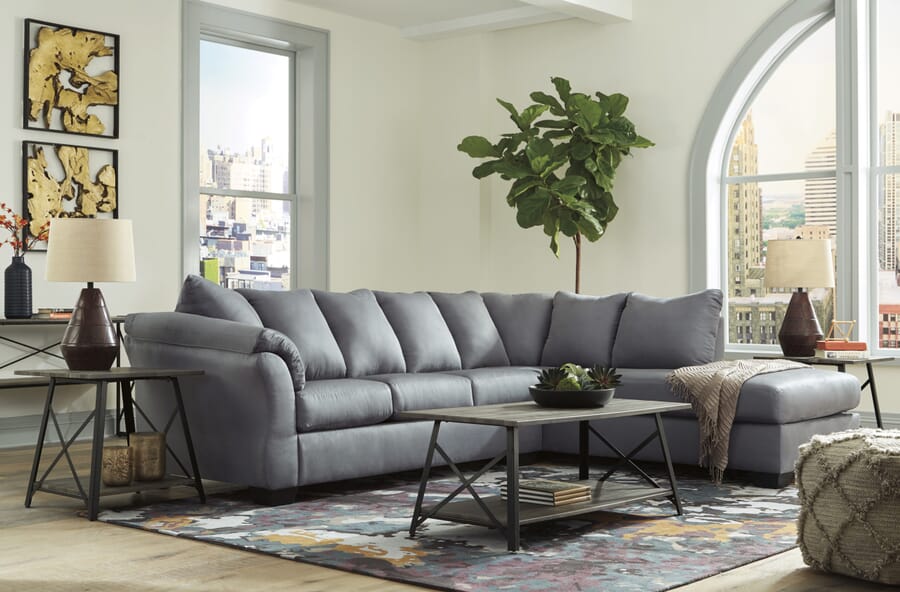 Living Room Table Style Guide
Coffee Tables

Easily identifiable as a low table that goes in front your sofa or sectional, a coffee table is extremely functional and can often be found in a wide range of styles and materials. Its primary purpose is to keep beverages, snacks, reading materials, decorative objects, or coasters within reach.

When additional storage or display functionality is desired, look for options that have a lower display shelf, storage drawers, or convenient lift top with a hidden storage compartment.

Style tips to consider:

Ideally, coffee tables shouldn't exceed two-thirds the length of your sofa. For example, a sofa whose length is 90 inches shouldn't be paired with a coffee table any longer than 60 inches. The table also shouldn't be too high or too low in comparison with the height of your sofa. In fact, when choosing the right height, the coffee table should be equivalent to- or no more than two inches shorter than the top of the sofa's cushions.

When placing your coffee table in the room, keep it 12-18 inches away from its seating counterparts for the ideal distance.

End & Chairside Tables

With the same functionality as a coffee table but on a smaller scale, end tables are intended to go on one or both sides of your sofa or sectional, whereas chairside tables are intended to accompany a smaller accent chair or recliner. In other instances, they can also go in-between two chairs. They're great for keeping remotes, beverages, tabletop lighting, and electronic devices within reach. As with coffee tables, you can often find ones with a lower display shelf, storage drawer, or built-in USB ports to stay plugged in while you relax.

Style tips to consider:

When choosing the best style to accompany your sofa or sectional, consider size and scale. The end table shouldn't look too large or too small next to your seating. For instance, if your sofa is on the bulkier side with thick padded arms, you wouldn't want to choose a slim, contemporary style end table. And when it comes to height, choose an end table that is level with- or 1-2″ lower than the height of the sofa's arms. When your sofa or chair doesn't have arms, most standard height end tables should work. Just be sure that any regular activity, like reaching for a remote, is comfortable while seated and avoid options that are taller than the seat arms.

When placing your end table next to your sofa or chair, make sure there is some clearance around its perimeter. Keep in mind that round or oval tables require additional clearance than square or rectangular options.
Sofa Tables

Sometimes used for display, sofa tables are also very versatile. Whether you utilize them every day or during game days and holidays, many modern versions add extra serving space when you need it most. Add a few stools and you've just added extra sit-down dining space as well. Often equipped with USB ports and electrical outlets, it's easy to keep food warm with a full house or charge your devices during the off-season.

Sofa Mates

Extra table space is always a good idea, but it especially comes in handy when you're working from home, doing homework, eating dinner in front of the TV, or hosting guests. This is why we love a good sofa mate table. Simply slide it over the side of your sofa or chair for instant tabletop space when you need it most. And when you don't need it, simply store it away thanks to its small footprint.

Nesting Tables

Versatile and multi-functional, nesting tables can provide options for a unique side table arrangement when you want something out-of-the-ordinary. They're also extremely functional, as they can be moved as needed to provide impromptu table space during dinner parties and holiday gatherings.

When used as a permanent end table display, feel free to experiment. You can break up the nesting table set and display in pairs, or you can display all three together while unstacked to create some visual intrigue. You could also take a set of three and use the tallest one on its own to display a table lamp on one side of your furniture while the two shorter tables can be slightly unstacked on the other side.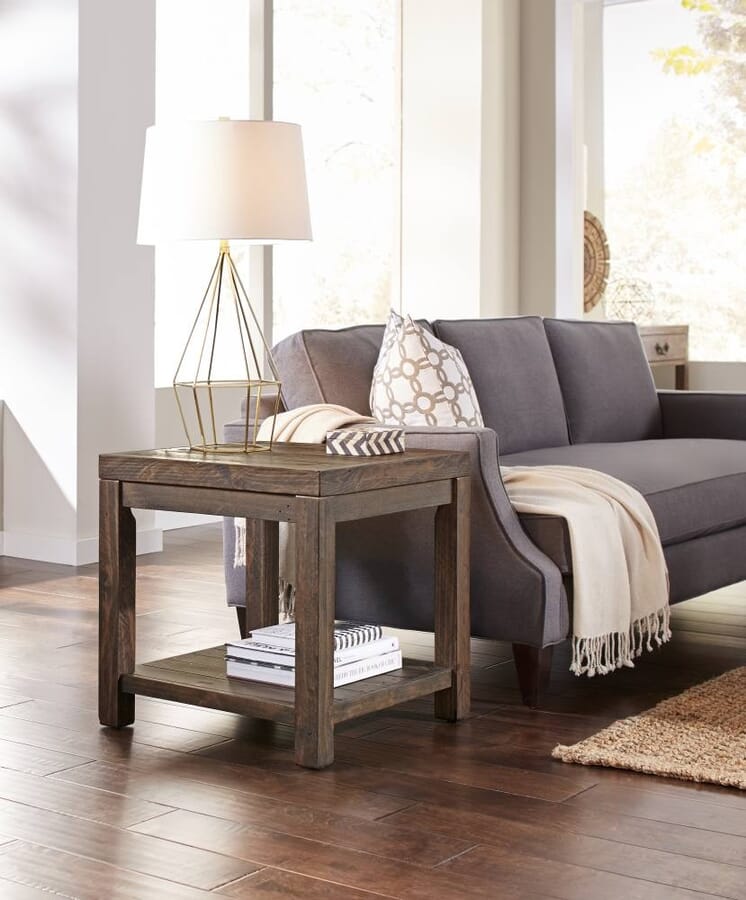 Popular Materials
In addition to style, shape, size, and scale, there are several living room table materials to choose from. Here are some of the most common.
The most common material found in living room tables, wood is often found in three types: solid, veneer, and engineered. Because of its quality construction, solid wood is the most durable version and will last for years with proper care. Wood veneer is made from thin cuts of wood, offering an upscale look at a budget-friendly price. Engineered wood is essentially a man-made wood product that is created by breaking down hardwood or softwood residuals into wood fiber and combining that with wax and resin binders that are formed into panels using high temperature and pressure.

Many glass tables incorporate glass as only the tabletop surface, while metal or wood is used for the table frame. For the most family friendly options, find tables that use tempered or shatterproof glass, which are made with safety in mind. Glass-top tables are great for adding an element of airiness into a space—the greater the amount of glass, the less visual "weight" the table has in the space.

Metal is often used alongside stone (for a more rustic style) or glass (for a more contemporary style) and is available in a variety of materials, including polished steel, tubular metal, aluminum, and iron. Besides being interesting, it also adds strength to the table frame.

An ultra-contemporary look, acrylic (or lucite) tables are for modern spaces and often add a glam flair to your space. Often combined with glass, acrylic tables are surprisingly durable, while their transparent design is the perfect complement to a statement piece of furniture.

Stone-top tables can add rustic, sophisticated, or organic appeal to your space. Often paired with a metal or wood frame, stone-top tables come in a variety of materials, including marble, bluestone, granite, and slate.