Home office solutions can vary widely depending on your available space, the frequency of use, and the purpose they will serve. Once you've taken some time to consider these factors and identify how (and how often) your home office will be used, it will be much easier to find a desk that meets your expectations and paves the way for productivity. Keep reading for a breakdown of the most common desk styles.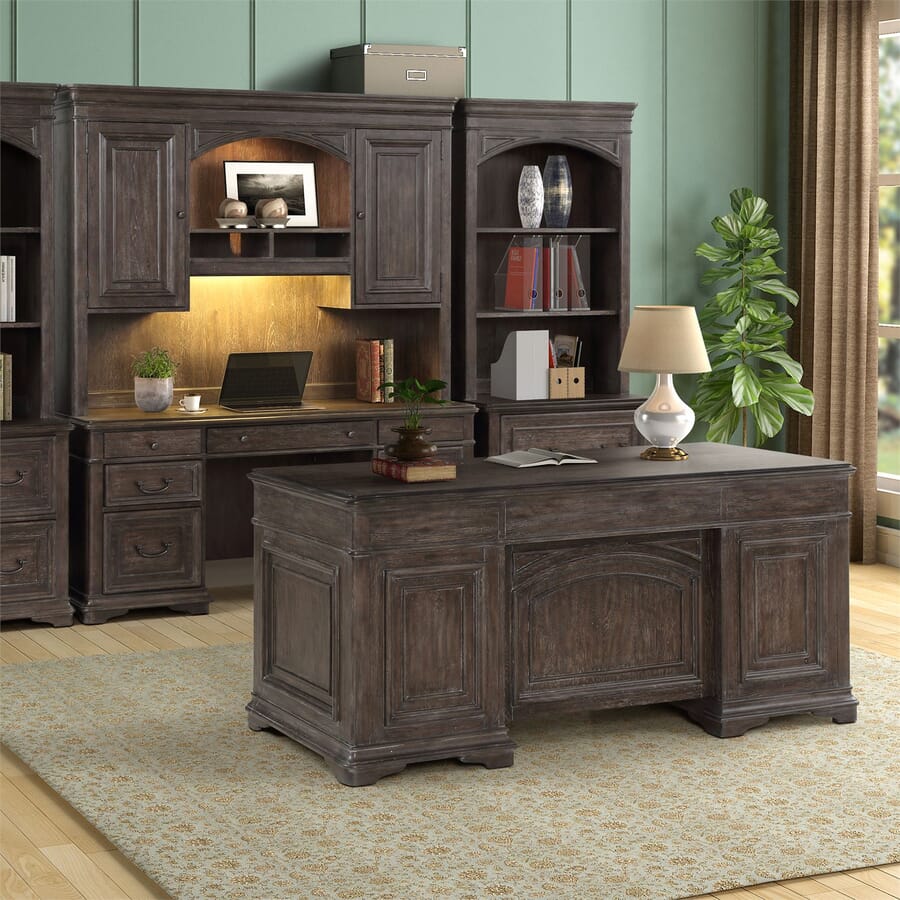 The Complete Desk Style Guide
Executive Desk
When you need a serious home office space, an executive desk sets the tone immediately and enables you to get right down to business. Often quite large in scale, executive desks provide a comprehensive home office solution equipped with ample workspace, storage and file drawers of all sizes, shelves, printer cubbies, and more. A comfortable, ergonomic office chair and complementary storage pieces—like an additional file cabinet, bookcase, credenza, or hutch—can often be found in providing a complete, professional home office space.
Writing Desk
More casual and informal in comparison, a writing desk is simple and straightforward. This makes it a practical solution for whatever purpose it serves, whether that's paying bills, grading papers, studying, or writing your next novel. You won't find many—if any—storage drawers, making this type of desk a common solution when you simply need a casual workspace.
Corner Desk
When you need a desk but don't have the necessary square footage to accompany a floating desk in the middle of a room, a corner desk can be a good option. From small to large options, corner desks utilize one corner of your room, leaving the main area open and accessible. Placing your corner desk near a window, when possible, gives you a great view to accomplish your sit-down tasks for the day.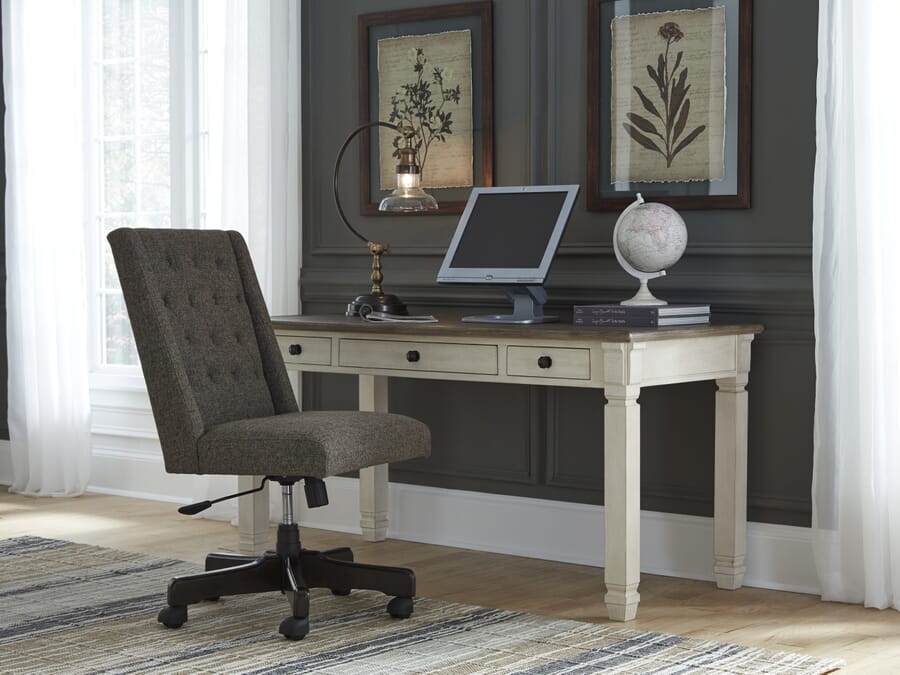 Computer Desk
With the same scaled-down simplicity as a writing desk, a computer desk is additionally equipped to manage all of the technological devices necessary to work productively from home. These extra features can be in the form of built-in electrical outlets and USB ports, an open cubby for a computer tower, dedicated space for a computer monitor, pullout keyboard tray, and open slots for cables and wires to run through. When used to their maximum capacity, these convenient features make working from home extremely efficient.
Standing Desk
When sitting for long periods of time isn't a necessity, you may benefit from a standing desk. Whether it's a true standing desk or a standard desk with standing, lift-top functionality, this type of desk allows you to utilize your workspace with more flexibility and mobility, and enjoy the added convenience of being able to perform various tasks at standing height.
L-Shaped Desk
If you often find your desk surface covered in organized piles of paper—leaving no room for actual work space—you may want to consider an L-shaped desk. This style of desk connects two desktop surfaces in an L-shape and leaves plenty of leg room to move easily from one work surface to another. Though it takes up considerably more space than a pared-down writing desk, it does provide ample work-, writing-, organizing-, and reading space.