Today officially marks the beginning of spring, and we are welcoming the new season with open arms and an empty stomach.  What better way to celebrate spring than with a recipe that uses fresh vegetables to brighten up the dish and your palette.  This easy pasta primavera is quick, easy, and versatile.  You won't find any meat in this recipe, but you can easily incorporate chicken or shrimp if you would like.
Easy Pasta Primavera
1 lb. pasta (spaghetti, fettuccine, or linguine work well)
1/2 lb. asparagus spears, trimmed and cut into 1 in. pieces
1 zucchini, sliced into rounds then halved
1/2 C. peas
1 C. broccoli florets
2 red or orange bell peppers, cored, seeded, and sliced into 1/4″ strips
2 C. grape tomatoes, halved
3-5 minced garlic cloves
3/4 C. heavy cream
3/4 C. chicken broth
2 T. olive oil
3/4 tsp. salt
1/4 tsp. pepper
4 T. butter
1/3 C. Parmesan cheese
Directions:
Bring a large pot of salted water to boil.  Once boiling, add veggies and cook for about 4 minutes.  Remove promptly, drain, and rinse under cold water.  Cook pasta in the same pot of boiling water according to package directions.  Drain, then return to pot.  Put cream, broth, butter, and salt and pepper into a small saucepan and simmer over medium heat.  Meanwhile, heat a large skillet to medium heat, and cook olive oil and garlic about 30 seconds.  Add the tomatoes and cooked vegetables.  Stir often and cook about one minute.  Add vegetable mixture and cream mixture into the pot with noodles.  Stir all together gently, adding Parmesan cheese.  Serve and enjoy!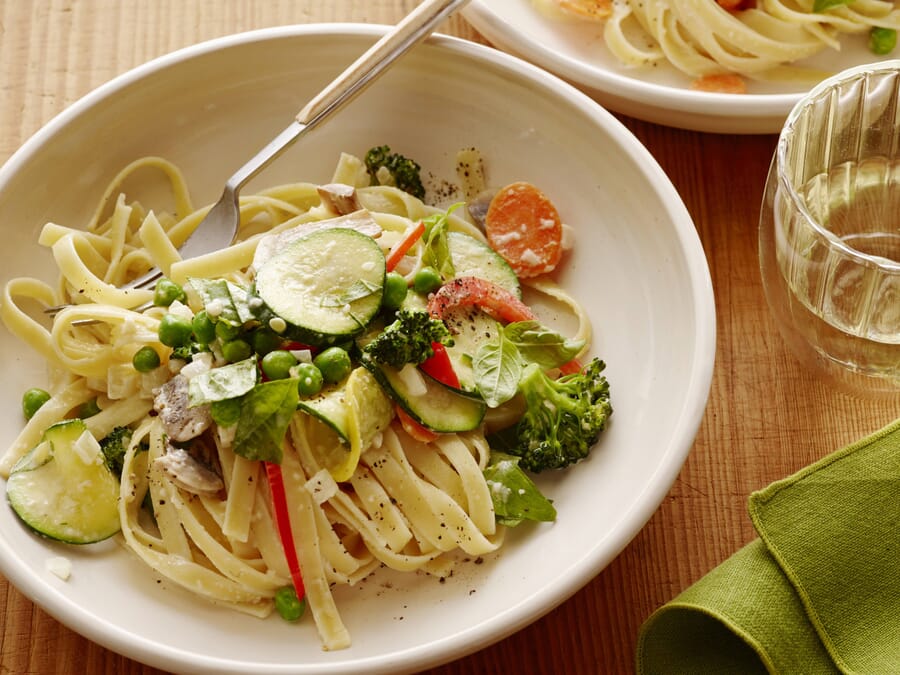 Photo Credit: Food Network