The furniture we have in our home can serve a functional purpose, like providing a comfortable place to relax at the end of a long day. On the other hand, it can help to tell the story of our home alongside the treasured heirlooms, family photos, and memories that reside within.
When form and function come together, however, it results in a feeling that is unmistakably home. A feeling of warmth, comfort, and belonging. A space that not only looks good, but feels incredible no matter which room you're in.
And that is why we are thrilled to introduce our newest celebrity line of furniture—Drew & Jonathan Home.
Drew and Jonathan Scott have been household names for over a decade, and now you can bring their signature aesthetic into your home.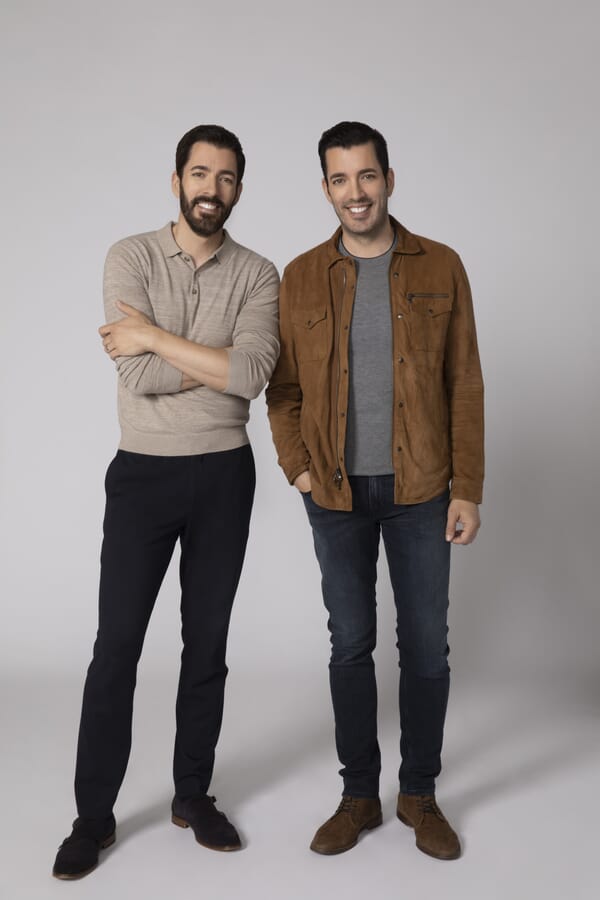 In the words of the brothers themselves:
Home is the place we know best: a feeling we hold tightly and recognize immediately, no matter the address. When we find it, we know that we are safe, we are ourselves, we are loved. We're home.

Drew & Jonathan Home embodies the sense of home we've felt through every step of our journey—a reflection of our experiences, designed for yours. Our modern home furnishings and décor are shaped by our past and present, inspired by the places and people who make us who we are. These pieces represent the guiding principles in all our work: Quality craftsmanship, inspirational design, and a desire to improve your everyday life. With casual and refined styles that seamlessly fit into your home, you can focus on what matters most: making memories of your own.

Through Drew & Jonathan Home, we're excited to share more of our story, and we're honored to be part of yours.
At WG&R, we are honored to carry four distinct collections from the Drew & Jonathan Home line: Boulevard, Essex, Catalina, and Denman. Read on to learn more about the conception of each collection and the unique aesthetic it embodies.
Boulevard Collection
from the Regency Moderne inspirational pillar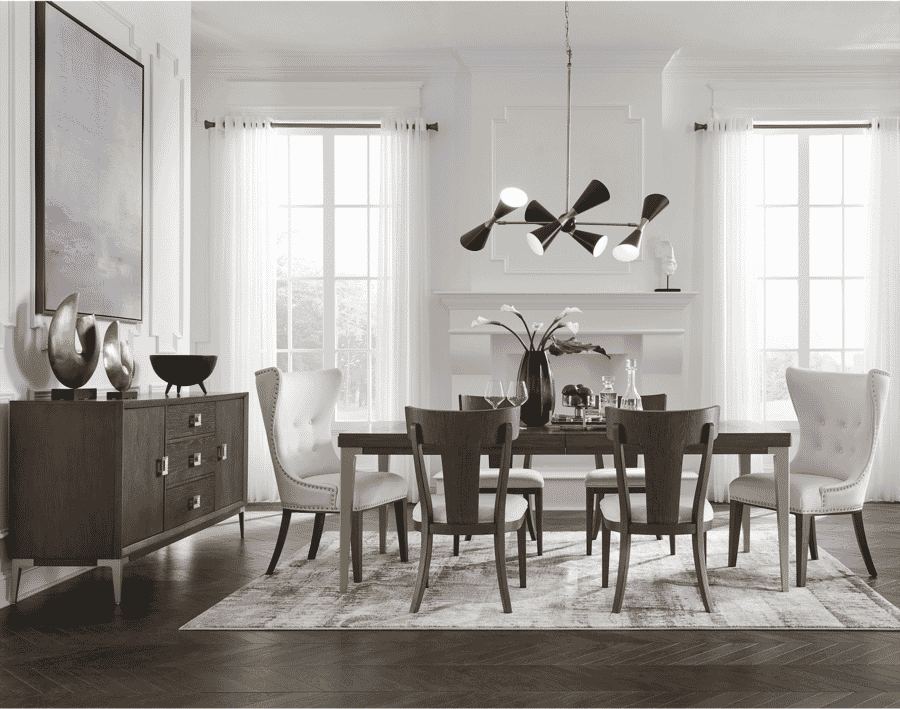 A nod to Jonathan's longtime Las Vegas roots, as well as Drew and Linda Scott's renovated historic 1920s Hancock Park home, Boulevard includes a sophisticated mix of materials, including oak in a dark, glossy finish; metal accents; luxurious velvets; and custom hardware.

"Our Regency Moderne-inspired designs
offer a visual feast through glimmering
metallics bursting from a deep rich base."
Catalina Collection
from the California Coastal inspirational pillar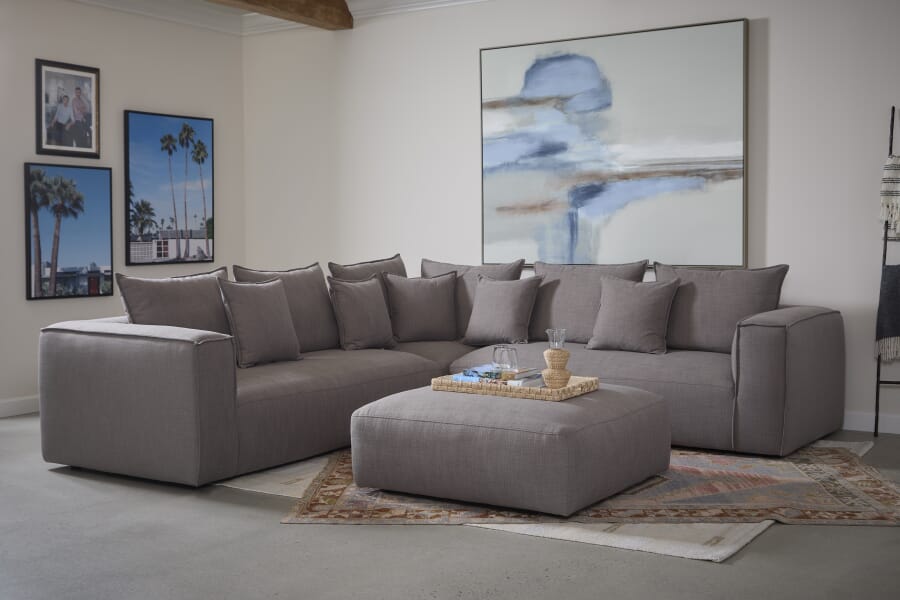 The Catalina collection offers a casual design profile that mirrors Drew and Jonathan's current Southern California lifestyles. The collection includes low profiles with classic angles and natural finishes. Highlights of the bedroom pieces include an upholstered, low platform-style bed with a fabric headboard and a wood-panel bed. Coordinating case pieces include a dresser with linear metal hardware and metal base, an accompanying mirror, and a two-drawer nightstand.

Highlights of the dining pieces include three tables: a round style with an open slatted base, a casual style with a "racetrack-shaped" top and open pedestal base, and a bar-height table. Dining chair choices include an upholstered pub armchair, an upholstered dining bench, and upholstered arm- and side chairs.

Rounding out the case good assortment is a buffet and accent cabinet, a coffee table with glass top and two etagere styles.

Upholstery pieces that coordinate with Catalina are covered in relaxed linens in warm, neutral tones. The sofa group includes a variety of seating options such as sofas, chairs, a chaise and ottoman, as well as a sectional with modular pieces. A 360-degree swivel glider with an exposed wood arm rounds out the assortment.

"Finding balance between nurturing relationships and creating time for
reflection can feel like a constant back-and-forth. We need reliable space for
both. Our California Coastal-inspired designs embrace the challenge with
pieces that welcome connection while stimulating the senses."
Denman Collection
from the Pacific Northwest inspirational pillar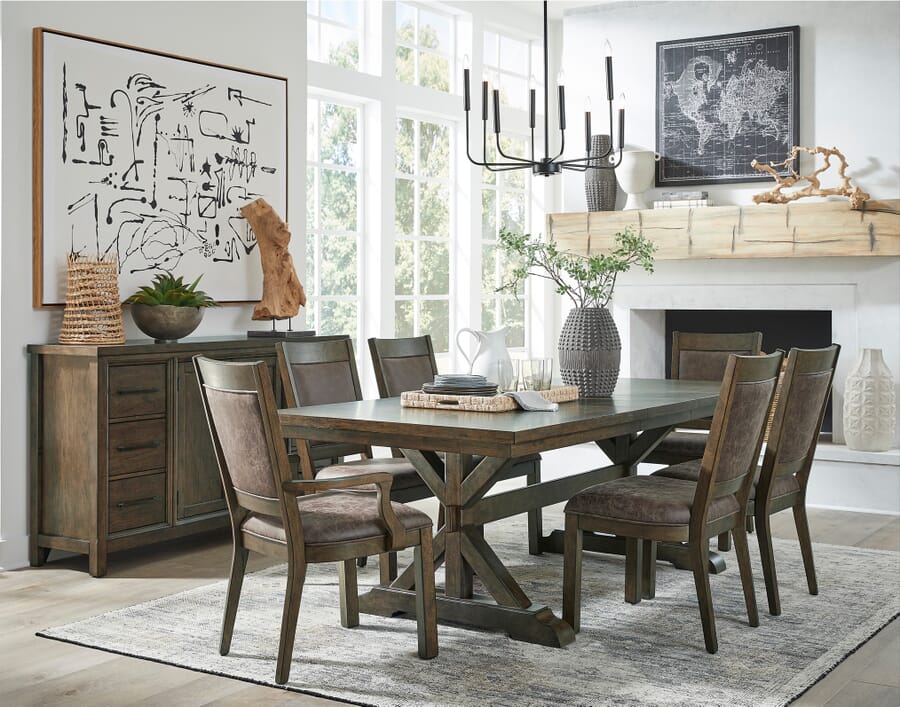 Inspired by Drew and Jonathan's upbringing in the Pacific Northwest, Denman is larger in scale, with lower and deeper profiles. Providing a classic look that translates well across the country, the group includes a panel-upholstered bed, along with a coordinating dresser, mirror and nightstand.

The dining group includes a rectangular table with two 18" leaves and a bar-height table and sideboard. Coordinating dining seating options include a side chair and stool with leather upholstery.

Upholstery offerings include a sofa group, available in both leather and fabric, and two accent chairs.

"Our Pacific Northwest-inspired designs remind us
of how strong, bold, and sturdy everything was back
then, from the mountains out our window to the bear
hugs we would get from Dad."
Essex Collection
from the Urban inspirational pillar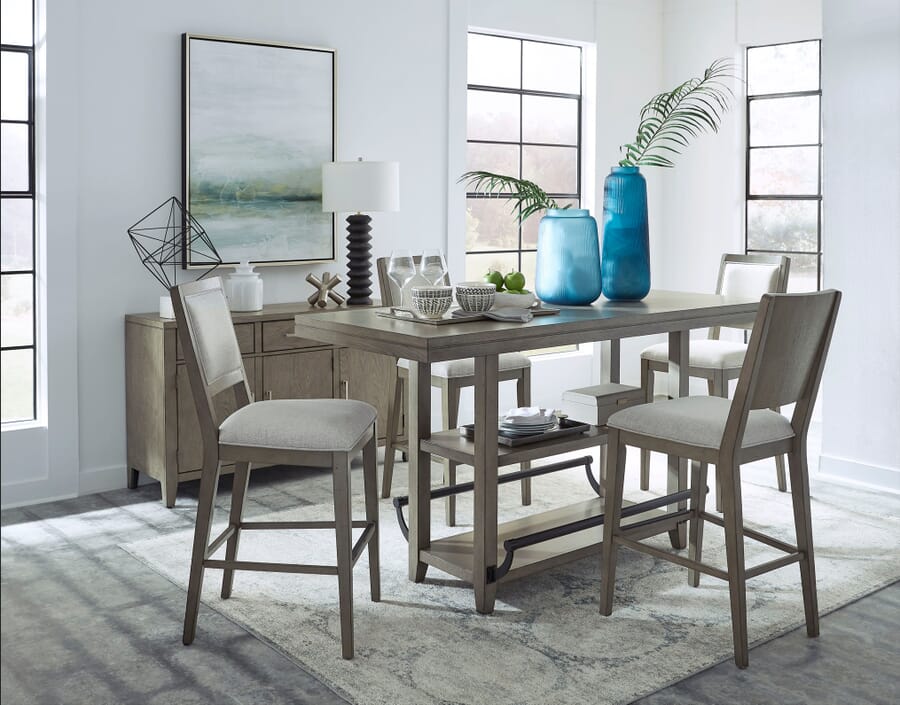 Essex offers sleek lines with a gray finish on quartered and split heart oak veneers. Reflective of Drew and Jonathan's on-the-move work lives and scaled more for a metro area or smaller home, pieces in this collection feature streamlined silhouettes and a variety of textured surfaces.

Highlights of the bedroom pieces include an upholstered bed with a classic, neutral fabric and a coordinating dresser with contemporary hardware in a satin nickel finish. Dining pieces include a small-scale rectangular table and a bar height table with metal footrests and a storage shelf. Several dining chair options are also offered, including upholstered arm- and side chairs and a dining stool.

"Putting together a home isn't easy, whether it's your
first time or your 400th (trust us, we would know!).
Our Urban-inspired designs simplify the process with pieces
that work in any space and include enough storage to handle
all of life's necessities."
Stay tuned…Essex will arrive in early 2023!
We invite you to visit our Green Bay and Appleton showrooms to experience the Drew & Jonathan Home collection for yourself.