Design professionals all agree: there's no better way to infuse your personality into a space than with artwork. But with all the available options, how do you choose?
If you've ever felt confused or overwhelmed by all the artwork options out there, fear not—we're here with a helpful room-by-room guide on choosing the best artwork for your space.
For the Kids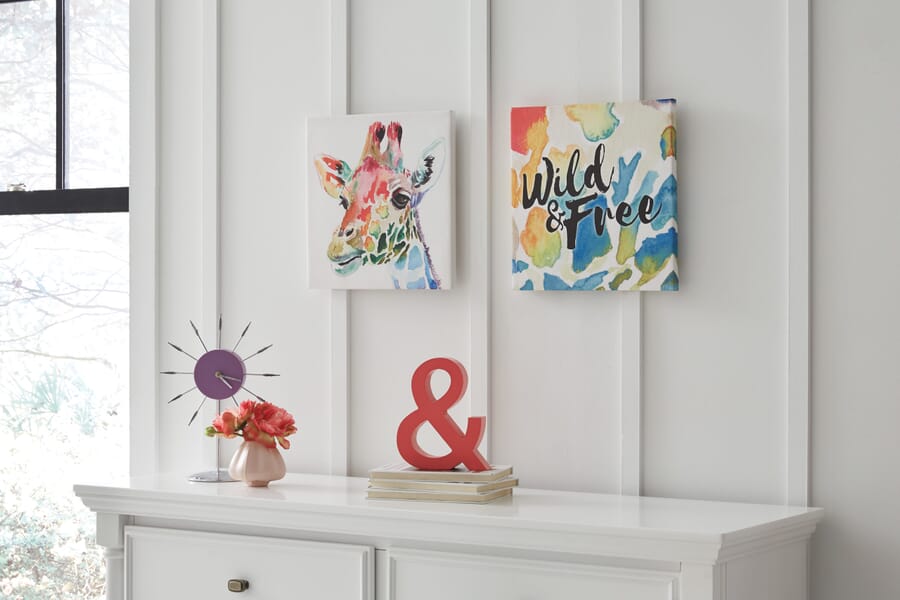 Let's start with (arguably) the easiest and most fun space to decorate—your kids' bedroom. Matching the bold, fun personality of your children can make choosing wall art a breeze. While you could go with one large piece of art, we find that kids have more fun when there's more to look at. Think smaller, side-by-side pairings or even groupings of four to make a statement.
Canvas prints are a great option because they're easy to find, affordable, and kid-friendly. And don't be afraid to incorporate fun signs, personal photos, or homemade masterpieces throughout.
For the Kitchen

While it may not be one of the first rooms to come to mind when you think about decorating your walls, the kitchen is another great space to have fun with artwork. Often one of the first rooms your family sees each day, the kitchen is a great place to add some humor, inspiring words, or have fun with the interior décor style of your home (the Market wall plaque above would make a great addition for farmhouse style décor). Of course, large decorative clocks are also a good option.
For the Living Room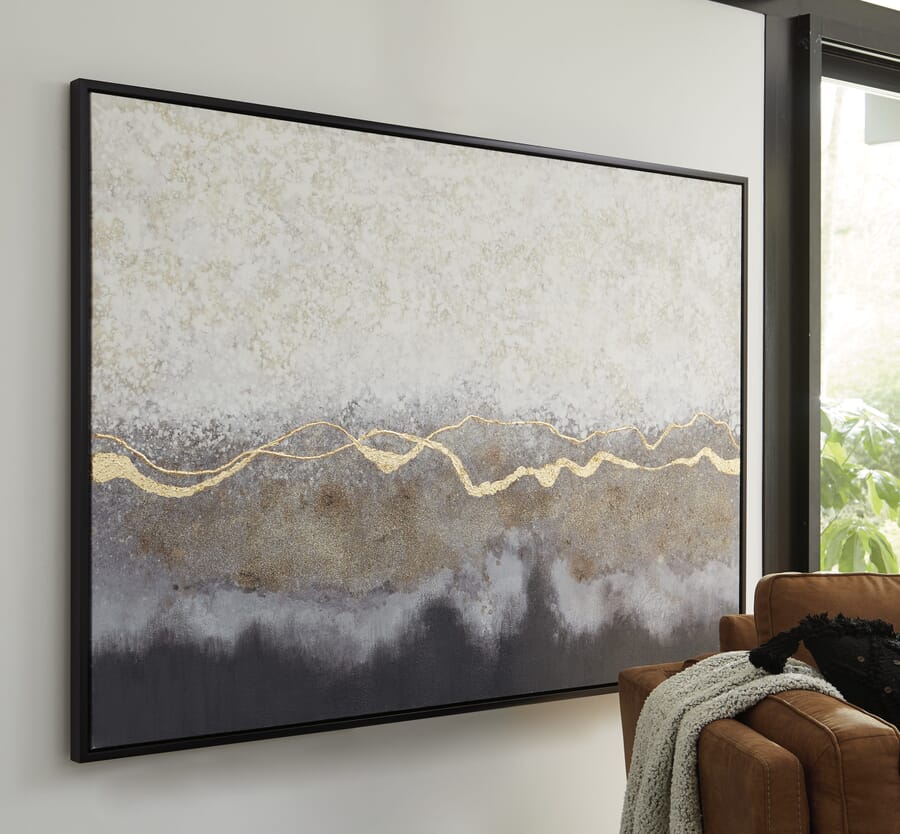 Of all the rooms in your home, the living room is the one with the most wall décor options—and can therefore be the most fun yet intimidating. After all, choosing the best piece for your living room space will be a critical part in setting the mood. Do you want to spark conversation with guests, create a relaxing retreat, or set a fun atmosphere for family? The answer to these should guide you in the right direction.
For dramatic impact, we like a single, large framed piece that leans more abstract. For a relaxing retreat, consider soft landscapes or pieces with soothing shades. And when family is the center of attention, a gallery wall of fun memories can make the biggest statement of all.
It's also okay to think outside the frame—wall sculptures, a dramatic mirror, array of hanging baskets, stag horns, or large-scale replicas of the American flag can also make an equally impactful statement.
For the Bedroom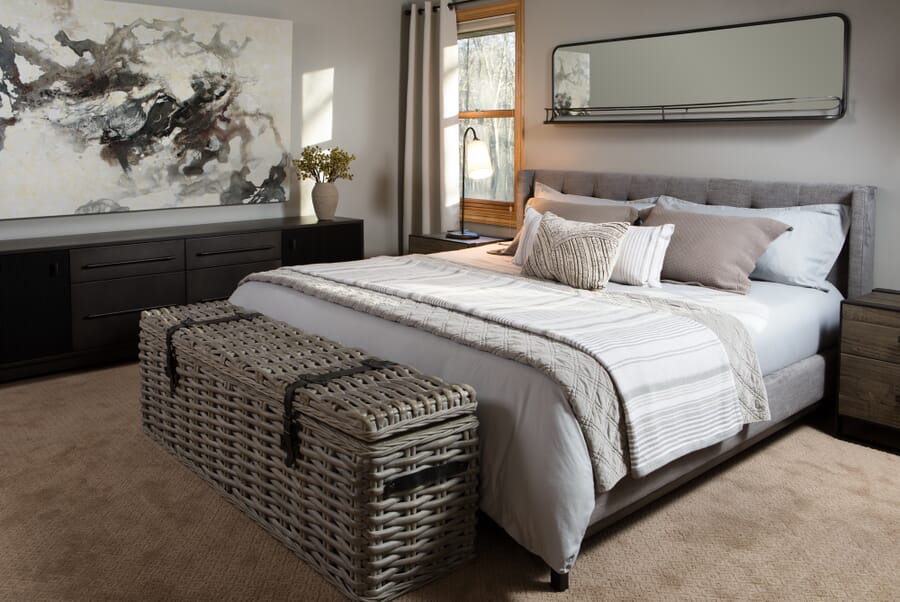 Your bedroom is a relaxing retreat, so why shouldn't your artwork contribute to the overall ambience? Look for abstract pieces with soothing colors or tones. Landscapes or black and white photography also work well in bedroom spaces.
Often placed on the wall directly behind the bed, artwork can also go on an opposite wall or directly above your dresser (just be sure to keep scale in mind so your furniture and artwork are in proportion to each other).
For the Entryway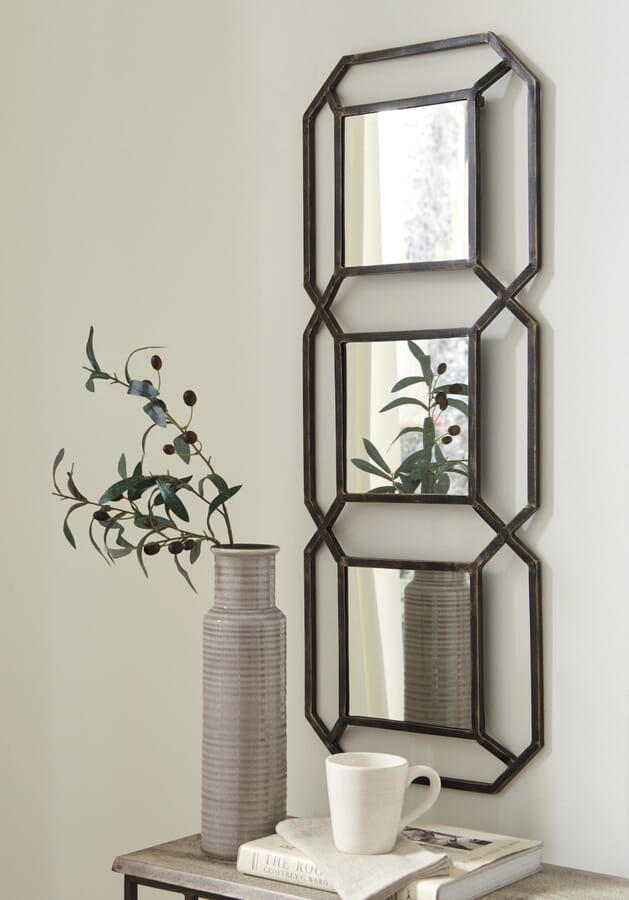 When you want to welcome guests with an impressive entryway statement, look for a decorative piece that will keep the space feeling open, airy, and inviting. Decorative mirrors do an excellent job of achieving this. If you'd rather stick to artwork, though, choose a piece that works with the existing furnishings that share the space.
If the space is mostly absent of large furniture and you're lucky enough to have a large blank wall, don't be afraid to choose a dramatic, oversized piece (framed or canvas) to fill the space. However, when you're styling the wall above a small entryway table, we'd err on the side of smaller artwork.  Groupings of two or four assorted pieces as part of a set would work well here, too.
For the Office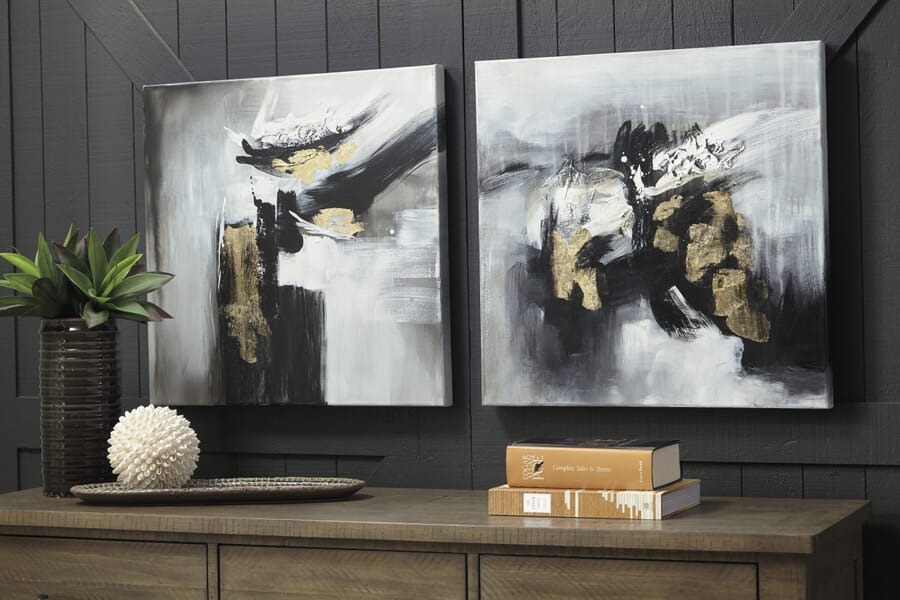 Just because your home office is intended for serious work doesn't mean you can't personalize the space and infuse it with tons of inspiration. A floating ledge shelf can work great here and enables a "rotating gallery" of images that you can continually update with family photos, professional artwork, or favorite prints and quotes.
If you'd rather go the traditional route, however, choose artwork that enhances the space while being subtle enough as not to distract you throughout the day. Abstract pieces work well here, as well as prints inspired by your profession, vintage maps, or book art that would impress any bibliophile.