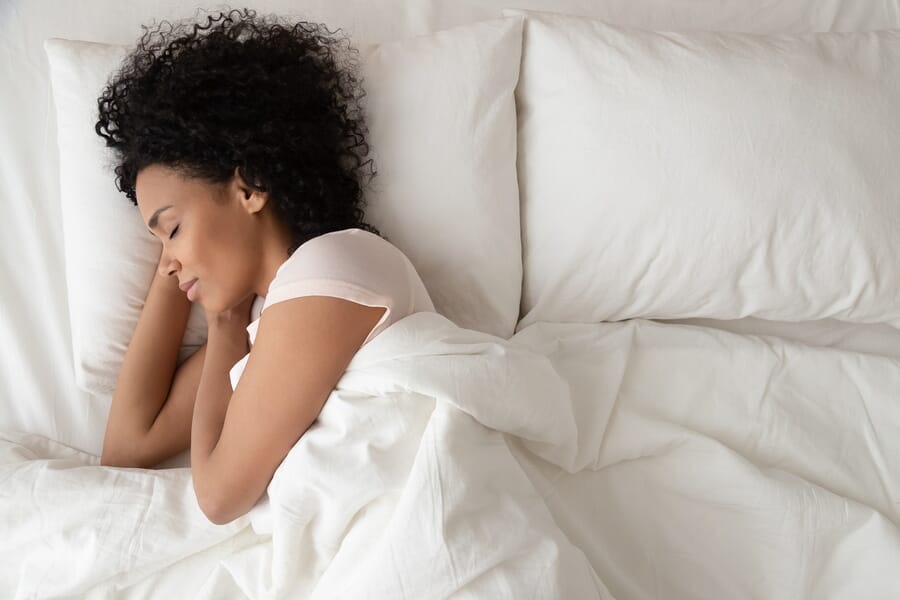 Taking proper care of your mattress over time will ensure it continues to provide many years of comfort and support. Follow these easy, helpful care tips to maximize the life of your mattress.
Easy Mattress Care Tips
Handle carefully. Whether you're moving a new mattress into your home for the first time or moving a used mattress into a different room, handle with care. Many mattresses have handles sewn into the sides that are intended to assist you in properly moving the mattress. If your mattress doesn't have handles, always enlist at least one other person to help you when moving the mattress. Not only will it prevent your mattress from bending (which can void your warranty), it will also help to prevent accidental injury to yourself.

Set a proper foundation. Even the most luxurious mattress won't hold up for more than a few years without the proper support. If you want to prevent uncomfortable sagging, always choose an approved foundation (a.k.a. box spring), frame, or adjustable lifestyle base. Standard foundations or frames with the proper number of slats should always be used unless you have a low-profile or platform bed that explicitly states it isn't needed. Lifestyle adjustable bases also do not require foundations or frames. Regardless of which base you choose to support your mattress, check your mattress manufacturer's approved list of options as to not void your warranty.

Protect your purchase. Accidental spills can damage your mattress forever, which is why it's so important to purchase a quality mattress protector. Not only will you protect your mattress, you'll also protect your warranty coverage, as many mattress manufacturers and retailers will void any warranty if a protector is not used. The best mattress protectors will be breathable, liquid repellent, easily washable.

Clean with care. In the event you still need to clean up a spill that has made its way through your mattress protector, take a gentle approach. A damp cloth—as opposed to a saturated one—can be used to gently blot the soiled area using warm water and a mild detergent. Soaking the mattress fibers with too much water can damage the fabrics and foams, doing more harm than good. Once you've spot cleaned the area, be sure to let it air dry completely before covering with a mattress protector and bed linens.

Rotate regularly. To avoid leaving irreparable imprints in your mattress, rotate your mattress to even out normal wear caused by each sleeper. Once monthly is the recommended rotation schedule.
Mattress FAQs
Even when you do everything right to care for your mattress, there are some frequently asked questions that may still come up. Here are the answers to some of the most common mattress questions.
How often should I replace my mattress? While there isn't a right or wrong answer, the general recommendation is 7-10 years. The basic rule of thumb is that if you suddenly notice a once-comfortable mattress is now giving you regular discomfort during the night or upon waking up, it may be time to consider buying a new mattress.

How do I choose the right mattress for my sleep needs? Check out our ultimate mattress buying guide here!

Why doesn't my mattress feel like it did in the store? Like a new pair of shoes, it takes some time for the materials in your new mattress to break in and conform to your body comfortably. It is completely normal for any new mattress to take up to two weeks to feel the same as it did in the store.

Why am I seeing impressions in my mattress? A body impression in your mattress may appear as a "sag," but there's a big difference! Today's resilient materials are designed to conform to your individual contours. The appearance of a body impression doesn't necessarily mean there's a structural defect; it simply indicates that the comfort layers are settling and conforming as they should. This may cause the mattress to have the appearance of a slightly uneven sleeping surface. Minimize further impressions by rotating the mattress top to bottom as needed.

What if I've repeatedly slept on my new mattress and still can't get comfortable? If you're still uncomfortable in your new mattress after the 30-day break-in period, rest assured that we offer a 125-night sleep satisfaction guarantee. Read more about it here.
Read our Tips for a Better Night's Sleep here.