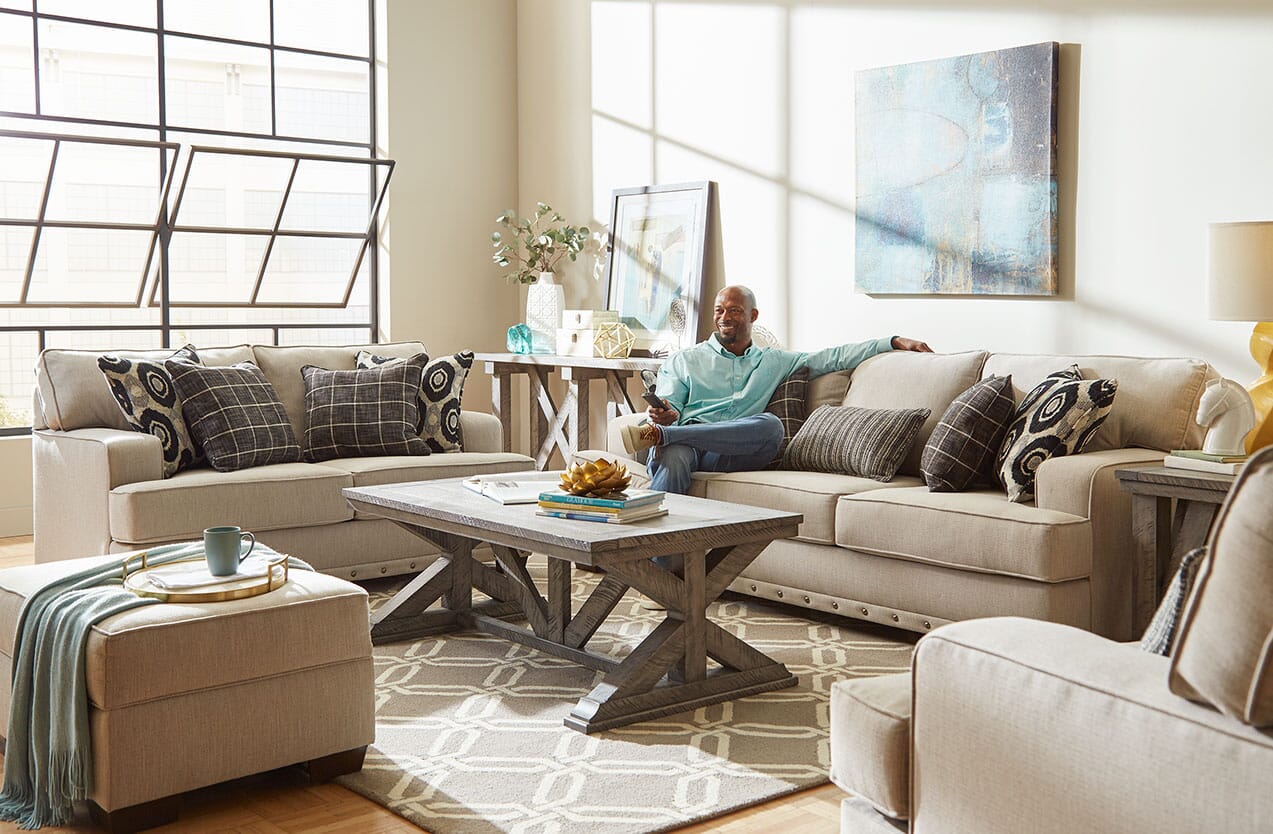 Your furniture is an investment. It's also at the center of your family's universe, which means it's highly likely to be the victim of accidental spills, stains, and general everyday wear and tear.
The good news is that tough stains and messy spills don't have to be part of your furniture forever as long as you follow proper care and cleaning tips. And we can't stress this enough—address any spill or stain immediately! The longer it sits in the fabric, the harder it will be to remove.
Our helpful guide is meant to help you care for your fabric sofa so that it stays looking fresh and new for as long as possible.
Things To Know Before You Buy
Consider your lifestyle. The fabric content of your sofa can give you great insight into the level of care it will require to stay looking fresh and new. Kids, pets, or frequent dinner guests? You may want to look for durable performance fabric options (read more about performance fabrics here). Not a concern? Feel free to explore more delicate fabric blends that contain linen or wool, for example.
Consider the cushions. Sofas constructed with loose and/or reversible cushions are typically more forgiving. Conversely, sofas with a tight seat or back style will generally keep their shape longer, but won't have the convenience of being able to flip over or rotate a cushion.
Consider fabric protection. Our furniture protection warranty program provides peace of mind and protects your furniture investment, giving you the freedom to enjoy your beautiful furniture worry-free from accidents.
How to Clean Fabric Stains
Read the label. Take the time to familiarize yourself with your sofa manufacturer's recommended cleaning and care instructions. These are often found underneath your cushions on a tag and indicate the best way to clean your sofa when spills do occur. It is important not to ignore these instructions, as your furniture manufacturer knows their product better than anyone else. Failing to follow these instructions could not only void your warranty, but could leave you with permanent marks if the wrong cleaning method or solution is used.
Know the cleaning codes. Your sofa will most likely have one or two letters on the tag beneath the cushion indicating the manufacturer's recommended cleaning method(s).

W stands for: Water-based cleaner. As the name indicates, this type of solution uses water as the primary cleaning component, and is therefore the only recommended cleaning solution.
S stands for: Solvent-based cleaner. This type of solution uses a cleaning chemical as the primary component, and is therefore the only recommended cleaning solution.
WS or SW stands for: Solvents and water-based cleaners. You can safely use either one to clean your sofa.
X stands for: Not cleanable with water- or solvent-based solutions. Rather than using a solution to clean the fabric, it is only recommended that you clean with vacuuming or light brushing.
*Water may seem innocent, but can actually leave unsightly marks if used on fabrics requiring only solvent-based solutions or no solutions at all.*

Tackle stains quickly. As soon as a spill or stain occurs, clean it immediately for the best results. Even allowing a few minutes to pass can cause the stain to set in, making it harder to remove.
Lightly vacuum (if necessary). If there are food crumbs or loose particles on your sofa, be sure to use a hand-held vacuum or vacuum attachment to gently remove them prior to tackling the stain.
Spot clean with the recommended solution. Before you begin cleaning, be sure to spot test your solution in an inconspicuous area first to ensure it's the right product for your fabric content. Once you're in the clear, begin cleaning your sofa with the recommended solution. As with the instructions on your sofa's tags, it's also imperative that you follow the instructions on the cleaning solution's packaging.
Blot and dry. Assuming your cleaning solution's packaging says it's safe to do so, blot the cleaned, wet spot with a dry microfiber cloth to soak up any residual moisture.
Let it "sit." Avoid sitting in the cleaned area until it is fully dry. This often requires a good air dry overnight, resulting in a fresh, clean sofa in the morning.
Want to learn more about cleaning a leather sofa instead? Check out our Leather Sofa Care Guide.