Earlier this year we received the exciting news that three women at our WG&R corporate center were pregnant, each due a few months apart. Creating a haven at home has become even more important than ever and with two of these ladies being pregnant for the first time they each want to make a special space for their little ones.
We paired our photographer, Jackie, and media and marketing coordinator, Ashley, up with one of our WG&R stylists, Darci, to create the perfect havens for their babies. Picking out décor and colors for your baby's room can be overwhelming and a bit of a challenge. We used the same crib, Lucca Flat Top Convertible Crib, which can also be converted to a toddler bed and full-size bed, for both pregnant mommas but changed out the décor to suite each woman's style.
ASHLEY'S NURSERY LOOK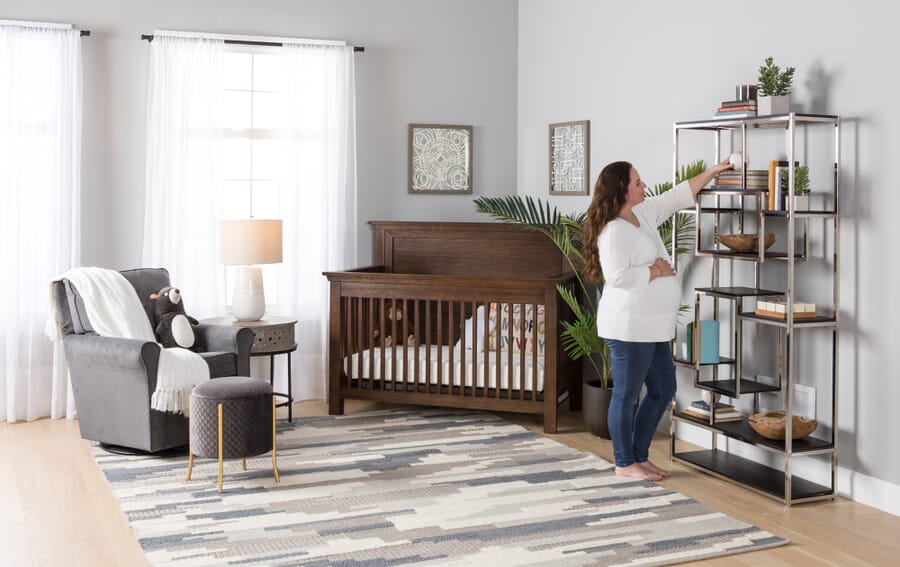 What is most important for your space? 
Creating a cozy room for our first baby that would also work for future babies regardless of the gender. I like things clean and simple, so that was something I knew I wanted to incorporate in this room as well.
Besides the crib what is the most important item you'd like in your nursery? 
Our nursery is on the smaller end, in size, so it was important for me to find something that could do double duty as storage.
What colors do you like for your nursery? 
This is our first baby, and we hope to have more, so keeping things neutral was important.  In general, I am a fan of a warm neutral color palette so I wanted to go with a mix of creams and whites. To mix it up just a little, I liked the idea of a crib that had a darker tone that catches your eye in a sea of cream and white.
Do you have a theme? 
We don't have a particular theme but we would like a warm/neutral color palette.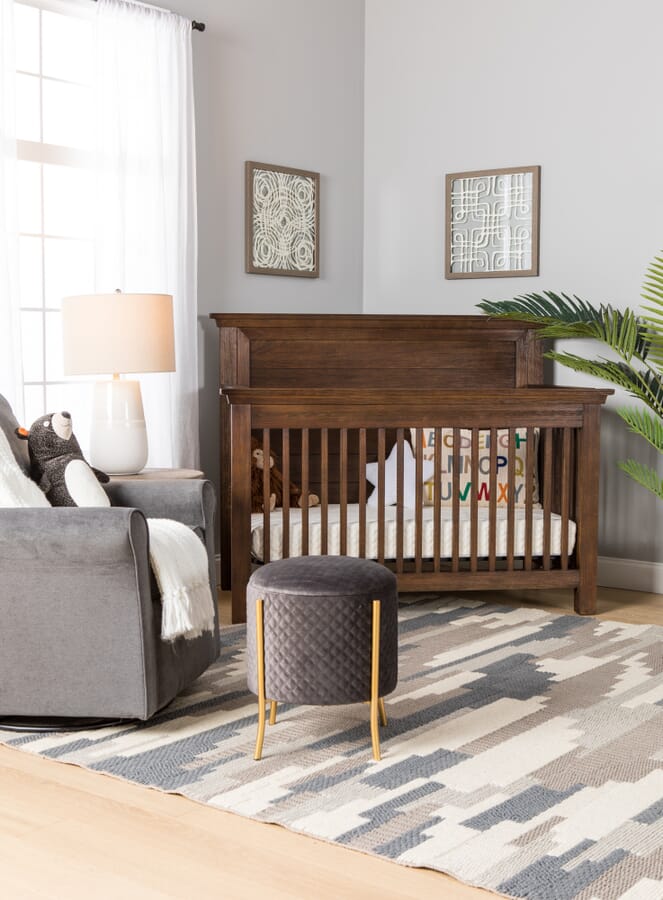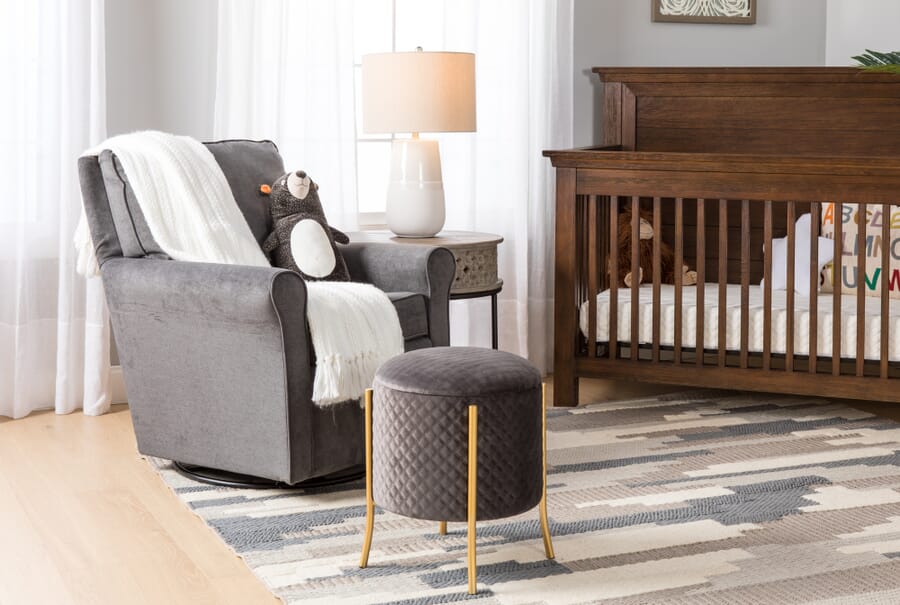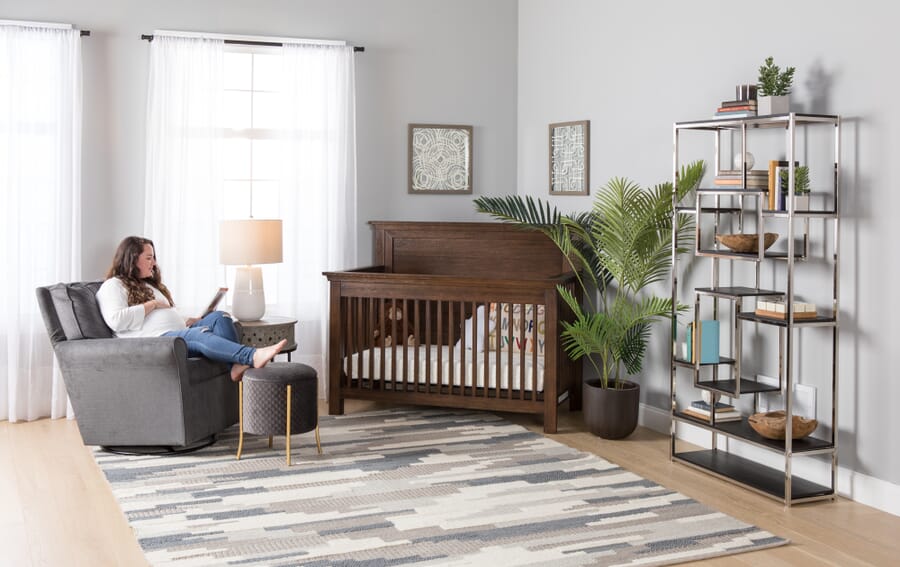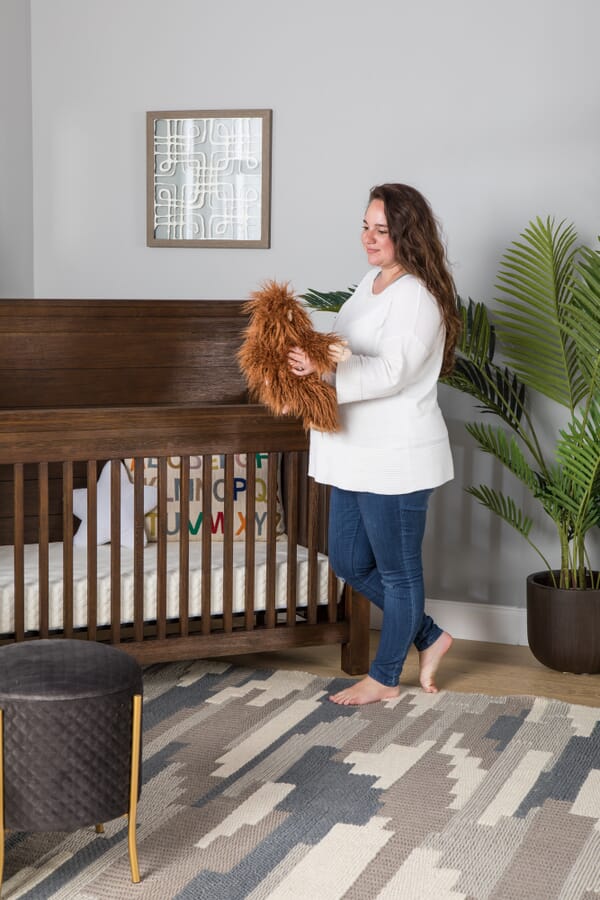 Thoughts/Tips from the stylist:
Creating a space for these momma's to-be wasn't about trying to be trendy or in fashion, it was important to be unique to, and express each momma's personality in their space. Since Ashley and her husband didn't know if they are having a boy or a girl, I kept the space neutral and layered in textures like the velvet Vino Grey Storage Ottoman and Cocoon 8×10 Area Rug.
In such a neutral space the rug really helps to bring in some pattern and the varied texture is fun for little fingers. Using neutral colors and transitional pieces in nurseries has become more popular. As children grow and their tastes change or transitioning the room for baby number two it helps to have a refined palette. The clean lines of the Shea Bookshelf was a perfect transitional piece and fit well with Ashley's style. With the room being on the smaller side it will also give her more space for storage and to show off special treasures.
JACKIE'S NURSERY LOOK

What is most important for your space?
This is our first child and we will be moving into a new house just weeks before baby girl is expected, so we don't have anything yet! Creating a warm, comfortable place for our daughter is our first priority.
Besides the crib what is the most important item you'd like in your nursery?
A soft rug and a comfy glider would be really great when trying to get baby girl to fall asleep.
What colors do you like for your nursery?
We found out that we are having a baby girl! Though we want the space to have feminine touches we'd like to use colors green, terracotta, and salmon instead of pink.
Do you have a theme?
We don't have a particular theme, but we like an eclectic mix of items and the use of vintage with newer pieces.
Any personal items you'd like to incorporate and why?
We'd like to incorporate the doll crib that my grandpa made for me when I was a little girl. I'd also like to include a couple special stuffed animals, one, a corgi like our dog Baxter, a framed photo of baby girl's 20-week ultrasound, and a terracotta-colored swaddle my sister gave me.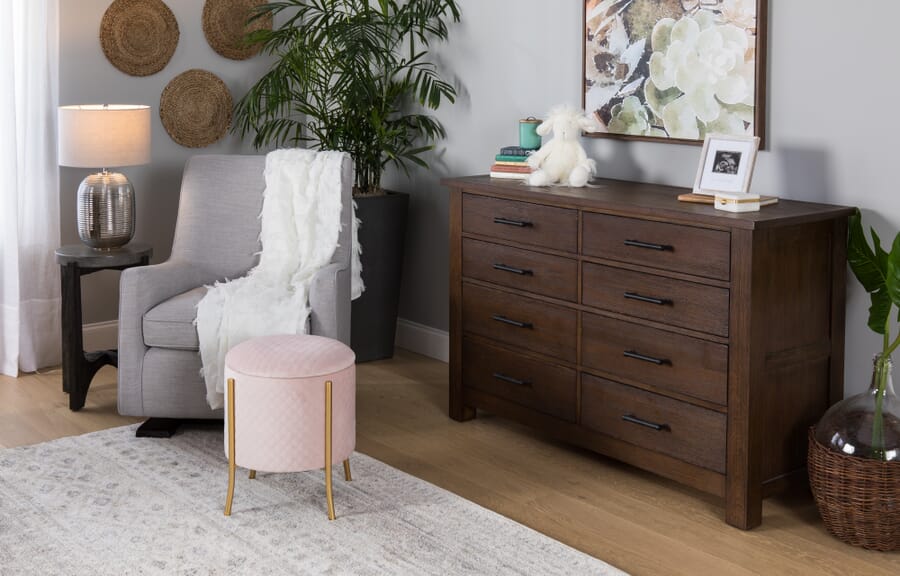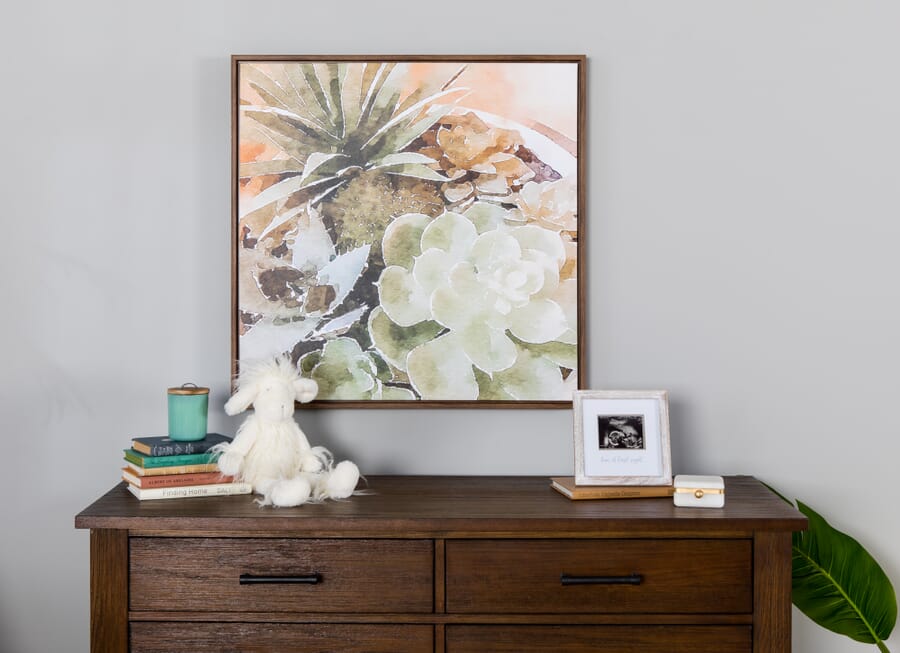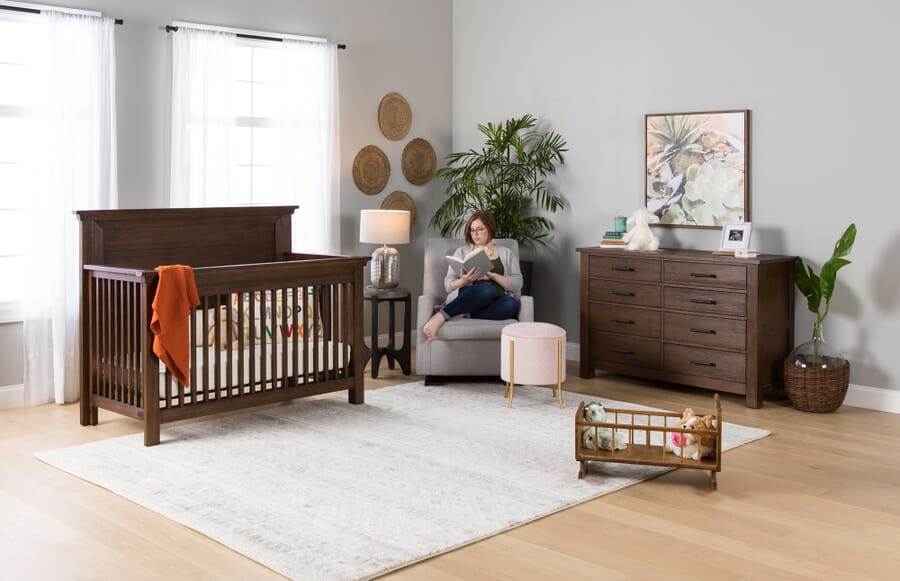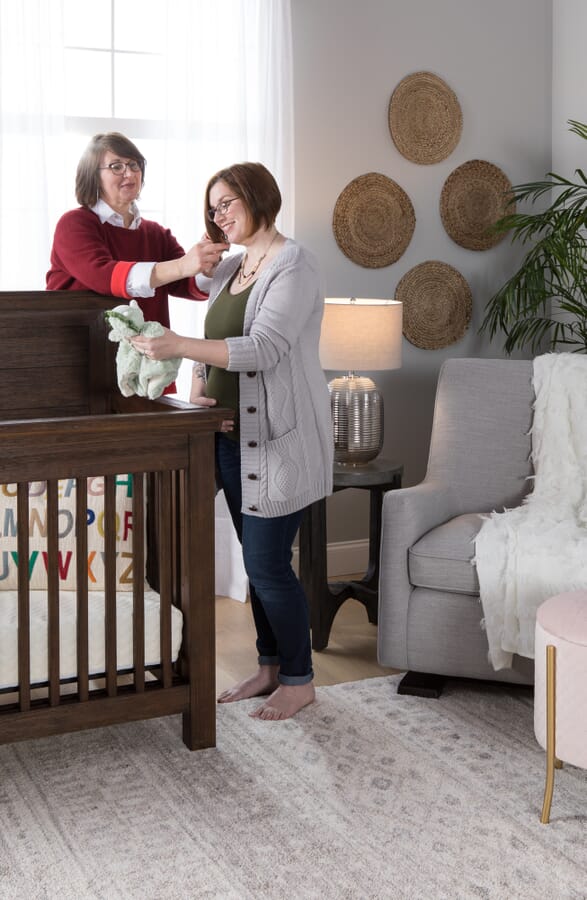 Thoughts/Tips from the stylist:
As with Ashley's room, I wanted to create a nursery for Jackie that leaves space for the little one to grow and has a timeless feel. I tried to look for unexpected ways to use simple, natural materials and to mix old and new which suits Jackie's eclectic style. For example, using items made from natural plant materials like these Milla Wall Hangings, from our sister store August Haven, would give you a similar feel to the ones used in this nursery. The use of plants, the Markita Wall Art, and Vino Blush Pink Storage Ottoman brought in the green, terracotta, and salmon colors Jackie was hoping for while adding a touch of whimsy and bohemia.
The matching dresser to the crib, the Lucca Brown Dresser, is the perfect height to be used as a changing table but is also transitional and can be used as the baby gets older. Finally, I added in the comfy, Alera Swivel Glider, and super soft Fowler 8×10 Area Rug for those late-night feedings.
If you need help creating a special haven in your home, book a session with one of our talented designers over at August Haven.
Since this post, Ashley has gone on to have a little baby girl! We are so excited for her. Jackie is due with her little girl at the end of August.