Home trends are always changing. Just take a look at Pinterest, and you'll quickly discover what many of these trends are. Today we're highlighting some of the biggest and brightest trends to consider for your home, whether you need a slight refresh or a major overhaul.
Trend #1: Lived-In Home Decor
Minimalism was, and continues to be, a home trend and lifestyle. But it just may have to move aside for the new home trend in town: the lived-in look. People are increasingly gravitating toward cozy, rather than sterile homes. Perhaps the biggest example in this design trend is the well-known hygge (HUE-gah) movement. Translated as "cozy" from its Danish origin, hygge places importance on achieving all things cozy: cuddling up on a comfortable sofa or sectional with a warm blanket, sitting near a fireplace, and drinking a warm beverage. Or entertaining family and friends with a laidback dinner that is more family-style than five-course. This warmer, more inviting style of living is also showing up in wood-look tile flooring, rustic elements, and a preference of navy over black.
An example on how to hygge. Image source: Pinterest
Trend #2: Farmhouse Fever
Thank Joanna Gaines and her extremely popular HGTV show for the rise in farmhouse fever. Everything from bright white shiplap to a modern mix of wood and metal has risen to the top thanks to the character and charm of farmhouse style. Whether you're buying the look or DIY-ing it yourself from repurposed materials, it's so easy to make this style your own while still adhering to the basic elements of farmhouse style.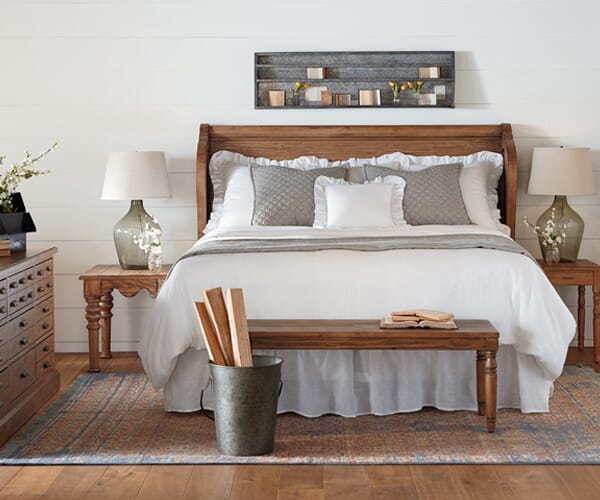 Our new Church Pew collection from the Magnolia Home by Joanna Gaines line.
Trend #3: Standout Accents
There is no shortage of eye-catching accents. Whether it's on a table top, piece of furniture, or accessory, there is no doubt that marble, copper, and acrylic are alive and well. Even if you can't incorporate it on a larger scale, you can find these looks in everything from laptop and mobile phone covers to picture frames and wallpaper.